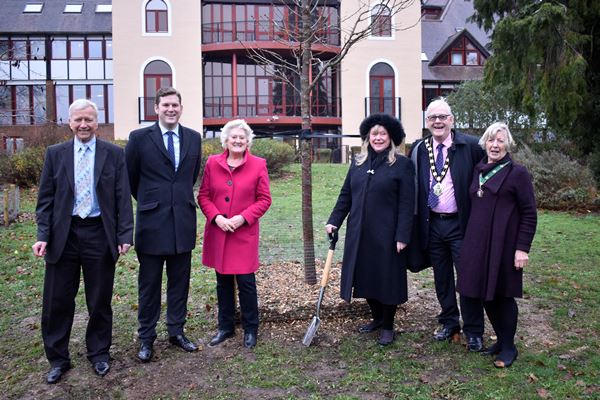 Tree planted to commemorate suffragette movement
Members of Test Valley Borough Council have unveiled a tree planted outside the council offices to commemorate the centenary of the first votes given to women.
This year marks the anniversary of the Representation of the People Act 1918, which saw the end of the suffragette movement by giving women over the age of 30 and men over 21 initial voting rights.
Ten years later, in 1928, all women over the age of 21 were given the vote.
Now a cherry tree has been unveiled at the rear of the council's Beech Hurst offices to commemorate the sacrifices made by the women's suffragette movement in the early 20th century.
The motion had been requested by councillor Jan Lovell and seconded by councillor Celia Dowden. The tree was planted earlier this month and a ceremony was held on December 18 that saw Leader of the council, Phil North and Mayor and Mayoress of Test Valley, councillor Ian Carr and wife Beryl join councillors Lovell and Dowden to officially unveil the tree.
Councillor Lovell said: "The Representation of the People Act 1918 saw life change for women in so many ways. Being able to vote today is seen as a democratic right for all, but this beautiful cherry tree will serve as an emotive reminder that this hasn't always been the case.
"I believe it's vital for local government to remember that we serve as a democracy and where the roots of that democracy came from."
Councillor Dowden added: "Everyone at the council realises how important it is to mark such an important event in democratic history and we were all very pleased to have been able to do this in a poignant way.
"A cherry blossom tree is a symbol of spring and growth. We must grow from the suffragette movement's fight for equality and build the growth of women in national and local government."