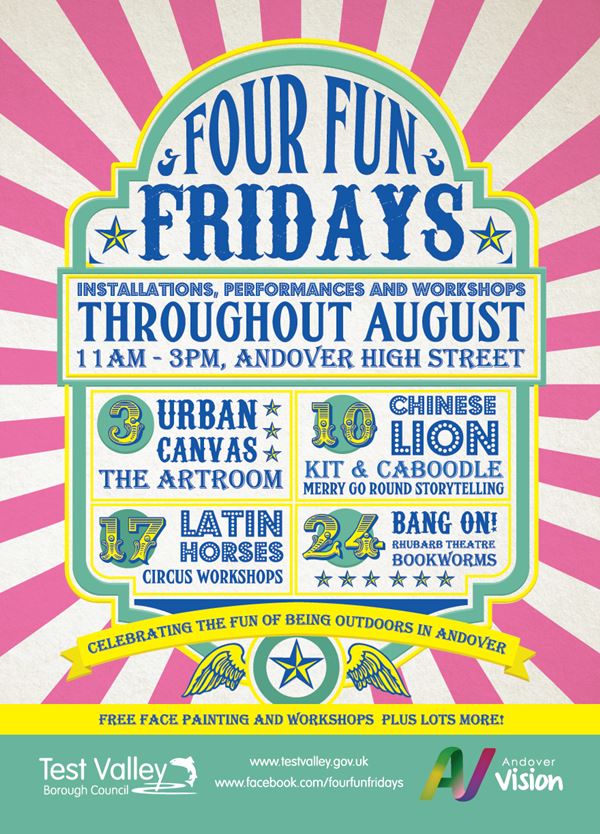 Four Fun Fridays coming soon to Andover!
The Four Fun Fridays summer family festival is returning to Andover this August.
Andover High Street will be transformed for the first four Fridays in August, from 11am to 3pm, with a fantastic programme of art installations, street theatre, creative workshops and performances for the whole family to enjoy.
Shoppers and visitors alike will be able to get involved in many different activities this year. The programme includes stories and activities from around the world including street theatre with Chinese Lions, Latin Horses and Les Busketeers.
Visual artists, Urban Canvas, will return to Andover on the first week to create an enormous 2D chalk painting outside the Guildhall. For the first time at Four Fun Fridays, the team of artists at Chapel Arts Studio will be resident each week in the 'Bus of Many Things' to capture a living history of Andover. They will be talking to people about their journeys to the town through a range of creative activities, all leading to a final exhibition.
Over the four weeks visitors will be able to enjoy a variety of acts, including Rhubarb Theatre performing their Bookworms show, Creative Palaver will hold circus skills workshops and there will be music from junk percussion duo, Bang On!
Kit and Caboodle will be sharing stories about migration with their miniature puppet show from inside a giant mule puppet. Merry Go Round Storytelling will be narrating the folk tale of the Awongalema Tree and classic fairy tales such as Three Billy Goats Gruff.
The popular Heritage Trail Tours will return on the second week, guiding families around the fascinating history of Andover. Places are free but must be booked in advance through The Lights box office on 01264 368368.
This year will feature an array of children's creative workshops from The Artroom and Kaz Trinder, where visitors can make giant flowers and animals from under the sea, in the sky and on the land.
Andover Library will be encouraging people to take part in the Summer Reading Challenge and the Army Welfare Service will host a creative writing corner. There will also be a chance to take part in some fun activities with Andover Vision and Test Valley Borough Council's Recycling Stars.
Community and Leisure Portfolio Holder, Councillor Tony Ward, said: "The Four Fun Fridays events have been incredibly successful in recent years. The idea resulted from feedback from local residents and businesses requesting more High Street events. It is set to be a great summer in Andover."
The project has been funded by Section 106 developer contributions for Public Art from Andover Business Park and supports the Council's ambition for public art in Test Valley to involve, inspire and intrigue. Any local businesses interested in getting involved should contact Faye Perkins, Arts Officer, on 01264 368844.
Follow the fun on Facebook to keep up to date with the plans at: www.facebook.com/fourfunfridays.