Our Vision and Values
We currently have 43 Councillors representing 20 wards. Our Chief Executive, Andy Ferrier, drives our values and vision to be committed to improving the lives of all the people of Test Valley and a total commitment to providing high standards in everything we do.
We are an ambitious, innovative and optimistic Council with the confidence to deliver. This is based on:
Putting our residents and communities at the heart of our decision making.
On our long track record of entrepreneurial successes
On our culture which is focussed on delivery
On our investment in our communities, councillors and staff.
Our investing approach is embodied within our corporate plan titled Investing in Test Valley. It seeks to deliver sustainable foundations for the future to ensure the Borough remains a great place to:
Live, where the supply of homes reflects local needs
Work and do business
Enjoy the natural and built environment
Contribute to and be part of a strong community
We are values driven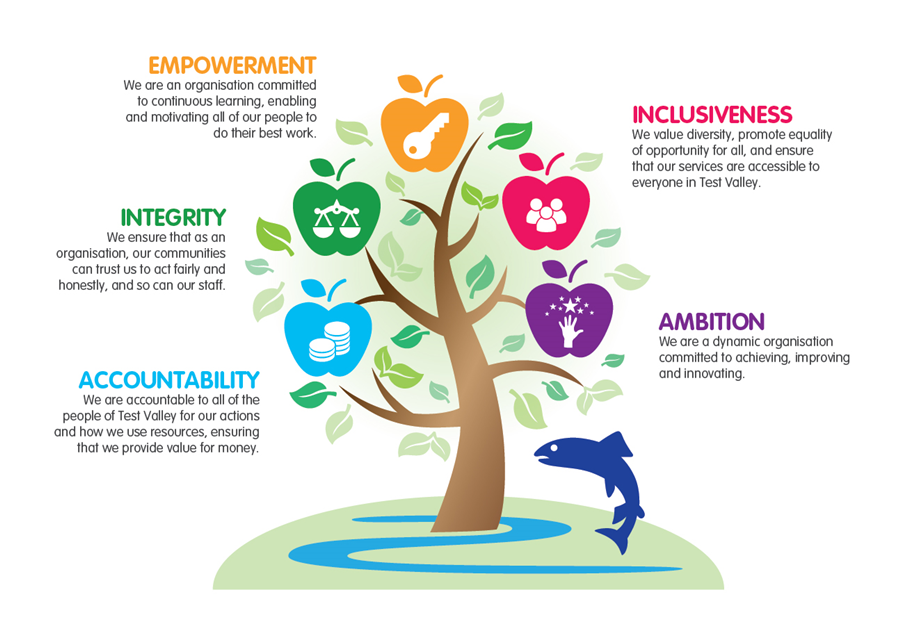 We are committed to high standards in everything we do, shaping our behaviours
and building our reputation in the eyes of our residents. Our five values are:
Accountability - We are accountable to all of the people of Test Valley for our actions and how we use resources, ensuring that we provide value for money.
Ambition - We are a dynamic organisation committed to achieving, improving and innovating.
Empowerment - We are an organisation committed to continuous learning, enabling and motivating all of our people to do their best work.
Integrity - We ensure that as an organisation, our communities can trust us to act fairly and honestly, and so can our staff.
Inclusiveness - We value diversity, promote equality of opportunity for all, and ensure that our services are accessible to everyone in Test Valley.
For more information on our corporate plan, please click here