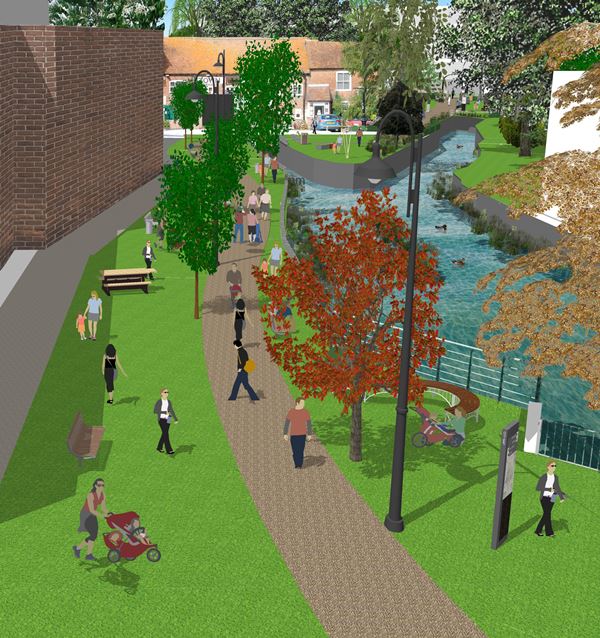 Works recommence on Town Mills riverside park
The construction works to transform the area surrounding Town Mills into a picturesque park are back in motion, following a temporary pause in the project due to the COVID-19 lockdown.
Back in April contractors working on the main gas works were redeployed to focus on essential emergency work elsewhere, which meant the overall project was put on hold. Having recently been able to safely recommence work on the area the contractors have now completed all gas works, which means the rest of the project can start to progress.
The next steps in the redevelopment will include completing a new access route to the car park and businesses from Western Avenue. Town Mills road will be turned into a charming park area brimming with trees and greenery and decorative railings to help showcase the stunning River Anton. Despite the pause in the project, Town Mills riverside park is expected to be completed before the end of this year.
The redevelopment is a joint project between Test Valley Borough Council and Hampshire County Council, and has received more than half a million pounds in funding from the Enterprise M3 Local Enterprise Partnership (LEP). Once the redevelopment is finished, the riverside park will provide an area for residents and visitors to relax, play, picnic and enjoy the river.
Leader of Test Valley Borough Council, Councillor Phil North, said: "Although we have encountered a temporary setback in the project, we are still on track to create a beautiful new park in Andover this year. The Town Mills redevelopment is the first stage in the fundamental regeneration of the town centre and will offer an attractive outdoor space for people to enjoy for years to come."
The project is the first step towards the delivery of the wider town centre transformation, as Test Valley Borough Council, Hemingway Design and NEW masterplanning put the finishing touches to the town's masterplan. The council expects to present the plans to the public in September, which will set out the vision for the future of Andover.