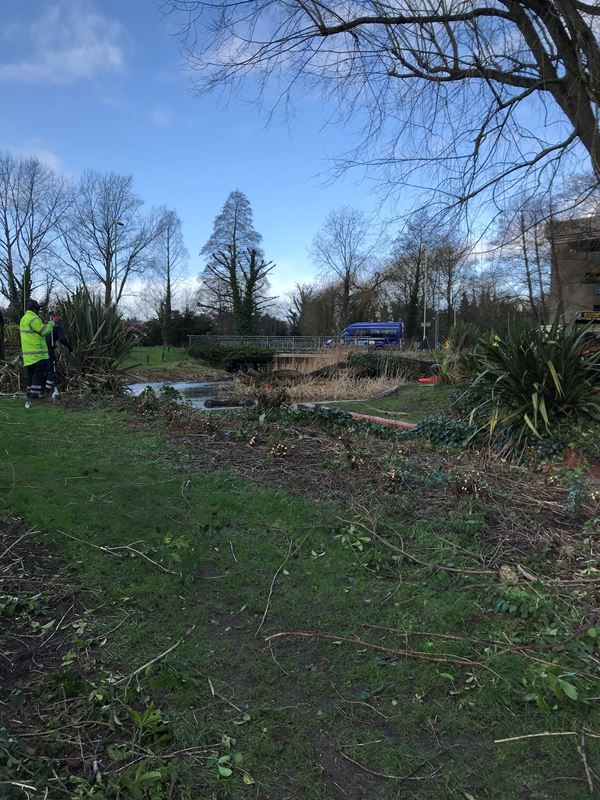 Next step begins on Town Mills Riverside Park
The next step to transform the area around the Town Mills pub in Andover into a picturesque park has begun this week.
On Monday, staff from Test Valley Borough Council began preparatory work to clear invasive and non-native vegetation around the River Anton that runs through the area. The work is the latest step in the Town Mills Riverside Park scheme that will see a pocket park created along the river.
The project will involve closing off vehicle access from Bridge Street into Town Mill Road, with a new access route created from Western Avenue to the existing car park and businesses.
Part of the Town Mill car park has already been closed off in preparation for work to start on the new junction. As the project progresses, the council is also going to plant a new park hedge and install railings, as well as the landscaping work that will take place.
The scheme was proposed after a consultation for the renewal of the Andover Vision initiative in 2016 saw many of the 4,000 respondents say they were keen to see more made of the River Anton in the town centre.
Residents said they wanted it to become somewhere people could stay, play, picnic and enjoy the river.
Leader of Test Valley Borough Council, Phil North, said: "Seeing work begin on the first phase of the redevelopment of Andover's town centre is brilliant. This marks the first step towards a new era for Andover and I'm very grateful for all those who have made this happen.
"I'm confident that this will be an area that everyone will enjoy for many years to come."
Councillor Rob Humby, Deputy Leader of Hampshire County Council and Executive Member for Economy, Transport and Environment, said: "These improvements support Test Valley Borough Council's exciting regeneration plans for Andover Town Centre. Hampshire County Council actively supports its market towns and we are investing capital funds to help them prosper."
Hampshire County Council is helping to deliver the project alongside the borough council and Andover Vision. Contributions have also been received from the EM3 Local Enterprise Partnership and developer contributions.