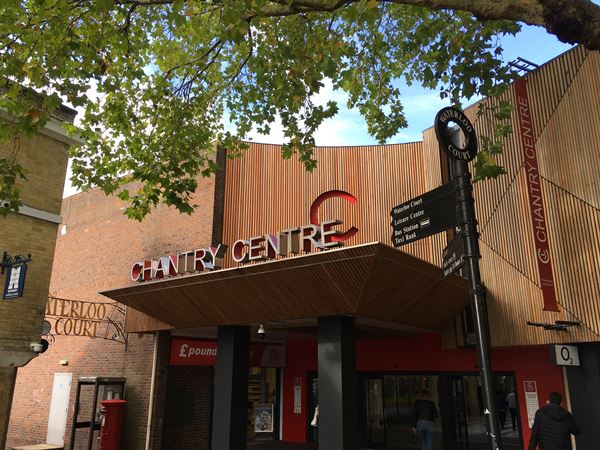 Citizens Advice relocates to the Chantry Centre
With shops starting to reopen in Andover, the Chantry Centre has welcomed another new tenant this week as Citizens Advice Test Valley has moved into the town's indoor shopping mall.
Relocating from their previous address on London Street, the Andover branch of Citizens Advice moved to Floor 1 of Chantry House on Friday 26 June. Chantry House has a number of large office spaces across five floors. The premises have remained vacant for several years but since taking over the shopping centre in 2019, Test Valley Borough Council has strived to encourage local businesses to make use of it.
Ahead of Citizens Advice moving into the office suite the Council has undertaken some improvement works and a refurbishment of the Chantry House lifts is also underway.
Test Valley Borough Council has ambitious plans for the future of the Chantry Centre as part of the town centre redevelopment project. In the meantime the Council is actively looking at options for the building's under-utilised space. Alongside their efforts to bring new organisations into available office areas, the council also operates a flexible easy-in, easy-out scheme for local retailers who may wish to trial a short term residence in a retail unit and raise their profile in the town before making a longer term commitment.
Leader of Test Valley Borough Council, Councillor Phil North, said: "We are delighted to welcome Citizens Advice into Chantry House. The offices have been empty for years and it's great to see them back in use. We have transformed the office areas into a comfortable working environment and we hope Citizens Advice will benefit from the move."
Ange Moon, Chief Officer of Citizens Advice Test Valley said: "The opportunity to move our offices into the Chantry Centre has been welcomed by the Trustees, staff and volunteers of Citizens Advice Test Valley. We feel our new location will offer an excellent working space for our staff and volunteers. TVBC as always have been very supportive of the work we do and despite these unusual circumstances we continue to provide our great service remotely.
"We look forward to being able to open the new offices to the public as soon as it is safe to do so."
Anyone interested in Chantry House office space can contact Colin Hares, at Test Valley Borough Council, on 01264 368000 or email chares@testvalley.gov.uk