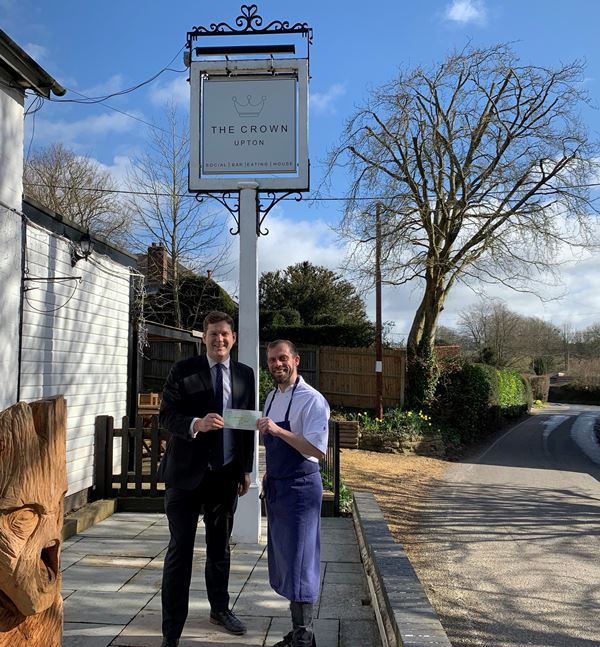 Cooking up a storm at the local pub
A chef at a village pub has benefitted from a financial boost by Test Valley Borough Council after starting up his own limited company.
Dave Watts is the chef at The Crown Inn, Upton and decided to set up his own company to run it as his first lone venture. Now, he has received a £750 boost in the form of a Business Incentive Grant.
Dave first took over at the pub in July last year and had also been awarded rural rate relief for the current financial year.
Dave said: "Everyone has been so friendly, warm and welcoming. I couldn't have asked for a better reception into the community – it adds to the enjoyment and makes us really feel as if we've been here for years already.
"Starting my own limited company is something that I'm excited about and to have the help, guidance and advice from the council in more ways than I can imagine, as well as the financial backing, is hugely appreciated."
Bourne Valley ward councillor, Phil North, said: "David has shown great ambition in starting his own company to run the pub and I applaud him for that. I know this is an extremely tough time for businesses and we need to do everything we can to support them in the right way.
"The pub is the real hub of the community in Upton and of course welcomes people from further afield. I wish Dave every success going forward with his new venture."
The council's £750 Business Incentive Grants are available to anyone looking to set up their own business in Test Valley. Anyone who successfully applies for the grant will receive £750 if their business is still going strong six months later.
These finds have become available to the community as a consequence of the council's prudent investments, financial management and the use of the New Homes Bonus.