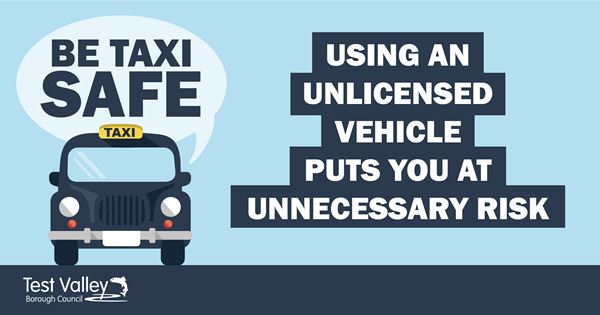 Fine for man who pretended to be taxi driver
An Andover man has been prosecuted by Test Valley Borough Council after he pretended to be a taxi driver in order to drive two young women home from a takeaway.
Last August, Paul Evans struck up a conversation with the women in a late-night takeaway shop in the town, before lying to them and claiming he was in fact a licensed taxi driver and could take them to Ludgershall for a fee.
However, shortly into the journey in the early hours, the passengers realised that Mr Evans had been lying and he was not a licensed taxi driver and were then able to leave the vehicle.
The council's licensing team and legal service began an investigation into the incident and were able to put a strong case together. Mr Evans was charged, and found guilty in his absence, of illegally soliciting persons to hire a vehicle to carry them as passengers.
The case was adjourned until February 20 for a sentencing hearing, where Mr Evans was disqualified from driving for six months, ordered to pay a £440 fine, £400 costs and a £44 victim surcharge.
Corporate portfolio holder, councillor Tracey Tasker, said: "Firstly, I'm extremely grateful for the hard work of the licensing and legal team who put this case together. It required a great deal of investigation and they have done a fantastic job in helping to keep the community safe.
"However, this serves as a vital reminder to be taxi safe. It is important to remember to check whether a driver is licensed by checking to see if they're displaying a licence plate at the rear of the vehicle. This plate will include the licensing authority, the number and vehicle registration. A licensed driver will also display an identity badge which will display similar details.
"If you would like any further information on how to keep safe in the community, please do contact the council on 01264 368000 or 01794 527700."