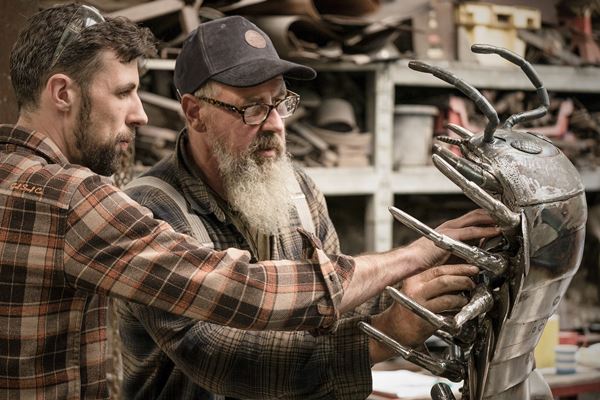 Award of Abbotswood public art commission
Test Valley Borough Council (TVBC) is delighted to announce that it has awarded the public art commission for Abbotswood, Romsey to Thrussells, a father and son creative art practice.
The £56,000 funding for these commissions comes directly from Section 106 developer contributions specifically set aside for public art at Abbotswood.
Thrussells Metal Sculptors specialise in community public art and create high quality work depicting heritage and natural history subjects made from mild steel, cor-ten, copper and stainless steel. All their work is created with their belief that public art can be for all to enjoy by creating installations with interpretation, durability, longevity, tactility and a passion for heritage and nature.
For Abbotswood, they have proposed a comprehensive sculptural trail that guides walkers around the development, highlighting key points of interest with sculptural storytelling and symbology. The project will include ten urban pointer way-markers located across the Abbotswood development at key intersections, creating a trail and directions. Four sculptural way-markers will be slightly bigger with additional detail and coloured glass. These sculptural way-markers would be located at the entry points to Abbotswood, the nature conservation area entries and the community facilities such as the community centre and play area.
The installation will also feature two sculptures to enhance the urban green spaces.
Artist, Thomas Thrussell said: "This trail will take residents on a journey in time and space providing hints to the rich environment that we live in. We are delighted to have been appointed for this unique opportunity to go on a creative and inspiring journey with Abbotswood community, and are excited to bring this trail to reality with the help of the local people."
Thrussells will begin the project with a community engagement programme that aims to reach all residents and stakeholders through research, walks, talks, workshops, exhibition activities and social media. More information on how residents and communities can get involved will be shared as soon as Covid-restrictions allow.
Community and Leisure Portfolio holder, Councillor Ian Jeffrey said: "It is important that councils continue to invest in public art at a time when wellbeing and quality of life have come very much to the fore.
"This project will give the local community and stakeholders the chance to play a key role in the development of their neighbourhood. It is a prime example of how public art can be a catalyst for people to become involved and invested in their surroundings, and to care about the environment in which they live."