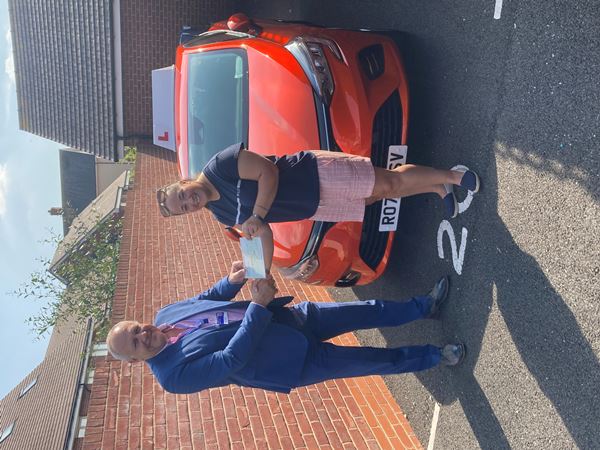 Former teacher goes full speed ahead with grant for new driving school
Lacey Payne Driving School is a new business venture launched in Andover by former secondary school teacher Lacey Payne, who has been given a boost with a £750 business incentive grant from Test Valley Borough Council.
Lacey decided to leave her long-term career as a teacher last year. She had a long commute to the secondary school she worked at in Oxford as Head of PE and was working 12-hour days. After spending most of lockdown working from home and missing the face to face interaction working with her students, she made the decision to change her career path.
Once qualified she purchased a dual control Renault Clio and launched her new driving school online setting up a website and social media channels.
Lacey said: "My mum became a driving instructor 4 years ago after 25 years as a bus driver and absolutely loves it! I wanted to channel my desire to teach in a new direction and this seems like a perfect fit."
Councillor Nick Matthews, who presented the cheque to Lacey, said: "I'm thrilled for Lacey Payne Driving School, and while it has been such a difficult time for so many businesses throughout the past few months, it is indeed a huge credit to small local businesses working so hard in adversity. It says a lot about these individuals and demonstrates to us all that if you are prepared to put the effort in and persevere, you will reap rewards. I am very proud of Lacey and wish her the very best of luck as she moves this business forward."
The council's business incentive grants are available to anyone looking to set up their own business in Test Valley. Anyone who successfully applies for the grant will receive £750 if their business is still going strong six months later.
These funds have become available to the community as a consequence of the council's prudent investments, financial management and the use of the New Homes Bonus.
For more information about the council's grant schemes, visit www.testvalley.gov.uk