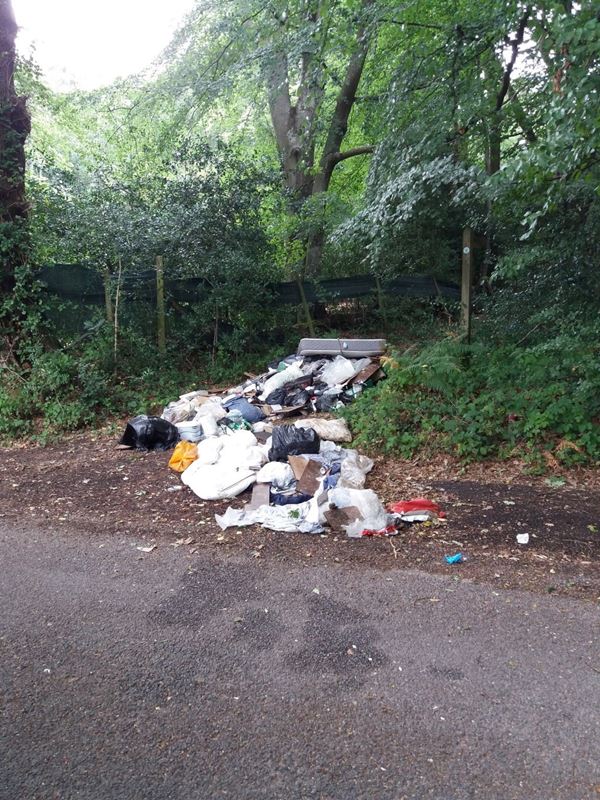 Man made to pay thousands after village lane fly-tip
A man has been made to pay almost £5,000 after waste was unlawfully dumped in a country lane in Awbridge following an investigation by Test Valley Borough Council.
Melvit Bilgic, 35, of Wolversdene Road in Andover, paid 'a man with van' to remove excess waste from a property in Bourne Court, which was subsequently unlawfully dumped along a bridleway in Newtown Road in Awbridge, last August. Mr Bilgic had been collecting the waste in the communal car park at the rear of Bourne Court.
In August last year, TVBC officers carried out a site visit to Bourne Court following a complaint, and found the waste overflowing. Five days later, a report was received of a fly-tip in Newtown Road, which was largely on a bridleway, but was also spilling out onto the road itself.
The vast amount of waste consisted of broken furniture, a double mattress and plasterboard, among other items and evidence was seized relating to Bilgic's property in Bourne Court. Mr Bilgic claimed he had hired someone else to remove and dispose of the waste, but couldn't provide any waste transfer note, or further necessary details.
Mr Bilgic admitted the offences which included failing in his duty of care on transfer of waste and unlawfully disposing of controlled waste. He was fined £3,333 at Basingstoke Magistrates Court, and made to pay an additional £1,217.87 in costs, and a £190 victim surcharge, totalling £4,740.87.
Environmental portfolio holder, councillor Alison Johnston, said: "As always, I am very grateful to our environmental service officers who have worked well together to find the person responsible for this fly-tip, using local knowledge and previous information.
"Fly-tipping is never acceptable and this blatant act of selfishness has now been punished with a criminal record and a sizeable cost to go along with it. It should be clear to everyone by now that waste needs to be handled, and managed, responsibly. Our officers are always on hand to offer advice and information about waste disposal, so there really isn't an excuse."