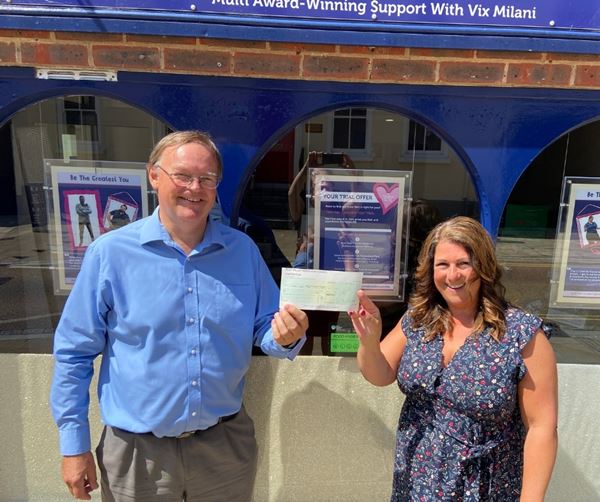 Weight loss business in good shape with council grant
Cambridge Vix Limited is a weight loss business that has taken up residence on Romsey's Bell Street. Owner, Vix Milani has been awarded an Independent Retailer Grant of £1000 from Test Valley Borough Council.
Vix, a top 50 consultant in the UK, has promoted the One to One Diet by Cambridge Diet Plan for the past 15 years, since successfully losing weight herself. She decided to leave the corporate world and her IT training job, to turn her then-hobby into a full-time business.
She has worked throughout lockdown as a key worker and is passionate about how her support & the diet plan has helped peoples' mental wellbeing by improving their self-esteem and confidence, as well as physical health.
Vix said: "I happened to see the vacant unit in Romsey and am delighted to find myself in a shop on the High Street amidst a global pandemic. I know a number of local business owners, and I am keen to help people in the community."
Councillor David Drew, who presented the cheque to Vix, said: "I wish Vix every success in her new High Street presence for her weight loss business. The Independent Retailer Grants are a great way to inspire and help new businesses to take on vacant premises and fill our High Streets."
As part of the council's strategy to support Andover and Romsey town centres, the Independent Retailer Grant is available to encourage new independently-owned retailers to take up vacant space.
These funds have become available to the community as a consequence of the council's prudent investments, careful financial management and the use of the New Homes Bonus.
For more information about the council's grant schemes, visit www.testvalley.gov.uk