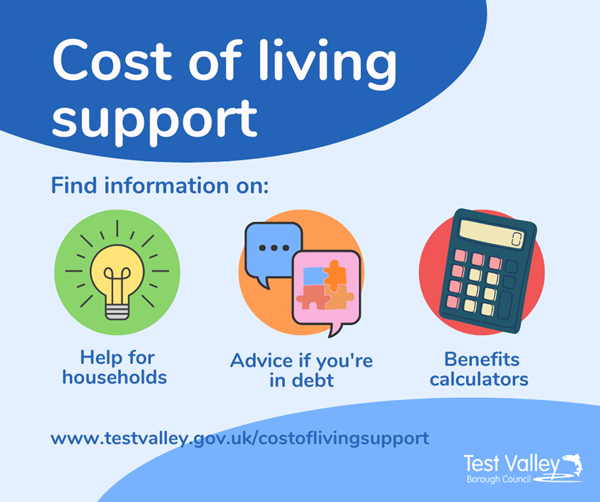 Partnership comes together to support residents with rising cost of living
The Test Valley Partnership came together earlier this month to hold a special cost of living conference to explore what more can be done to support local people.
Hosted by Leader of Test Valley Borough Council (TVBC), Councillor Phil North, and Leader of the Liberal Democrats, Councillor Celia Dowden, the conference brought together a host of different organisations including Citizens Advice Test Valley, Hampshire County Council, Department for Work and Pensions, Andover Foodbank and Romsey Community Services. They discussed what was already being done, identified gaps and explored what more they could do locally to assist.
The partnership will now take forward various actions and projects over the coming months that will help organisations to provide targeted aid to residents and make it as easy as possible for people to access the support they need when they need it.
To assist with this, the council has set up a new Cost of Living Support Hub, which provides useful information and signposts people to the various agencies and groups that can offer a range of help, from local food banks to financial advice. The information can be found at www.testvalley.gov.uk/costoflivingsupport
TVBC already provides a range of support to its local communities, including awarding more than £800k to Citizens Advice Test Valley over the next three years to provide advice on benefits, debt reduction and other practical help, administering food vouchers as part of the Household Support Fund and offering assistance with council tax and benefits.
Leader of TVBC, Councillor Phil North, said: "I completely understand people's concerns over the rising cost of living and the impact this is having. It is vital that we do everything we can to support our local communities through this, which is why we brought together the Test Valley Partnership, so we could look at how we can offer help in the most effective way.
"Although we don't have infinite resources, I'm sure there is more we can do, whether that be signposting, providing other practical support or perhaps even offering some one-off, targeted assistance to relevant organisations.
"It was a really productive session and I am incredibly grateful to everyone who took part. We will be moving things forward as quickly as possible over the coming months and will keep people updated on the existing and emerging help available."
Leader of the opposition, Councillor Celia Dowden, added: "It was an informative session. There is an impressive range of help from our many local groups. Letting residents know where and how to access this support is the first step, but we will also need to be looking at other ways in which the council can support residents during this crisis.
"People are understandably very worried about the cost of living and it is affecting those who are already some of the most vulnerable members of our community, as well as individuals and families who have not experienced financial hardship previously.
"We can achieve so much more by working together and I am so grateful to all those involved."