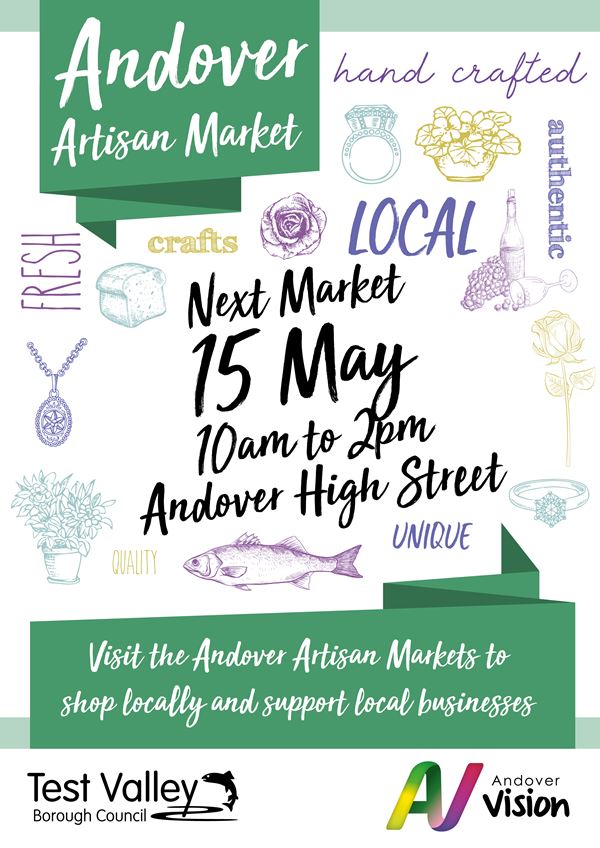 The best of Andover's food and crafts available at May's Artisan Market
The Andover Artisan market will be back open on Sunday 15 May from 10am to 2pm, showcasing the best of local goods and produce from the area.
Visitors can look forward to supporting independent businesses and creatives as Andover traders look to sell a variety of different products across the High Street.
Foodies will enjoy tucking into artisan bread and cakes, delicious cheeses and locally made cider.
Craft traders will also be in attendance selling a host of handmade items, such as children's clothing, wooden crafts, 3D printed toys and gifts, original art and candles.
The artisan market will be located in Andover High Street, just in front of the town's prominent guildhall. The market can easily be accessed from the bus station, train station and parking in Andover town centre is free on Sundays.
Leader of Test Valley Borough Council, councillor Phil North, said: "Our monthly artisan market provides a really great opportunity to shop with local businesses and find something unique. And with the weather warming up it's an ideal time to make the most of the town and visit Andover's beautiful Riverside Park, which is just a stone's throw away."
To find out more about the market and traders, visit testvalley.gov.uk.