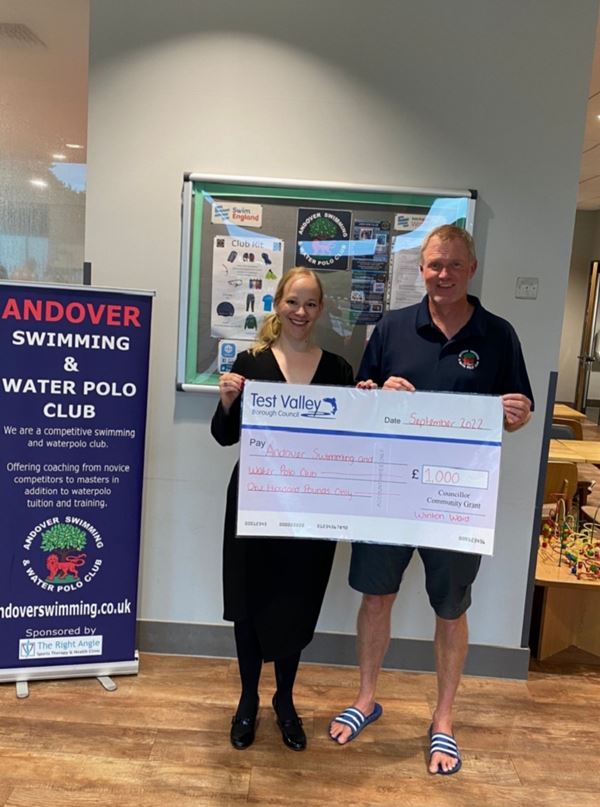 Andover swim club awarded £1000 council grant to make a splash with new equipment
The Andover Swimming and Water Polo Club successfully applied for a Councillor Community Grant for the Winton ward of £1,000 to purchase new equipment to support the development and growth of the club.
The club supports a small but dedicated group of children and young adults who compete in swimming and water polo. After Covid restrictions were lifted the club has been trying to build numbers to help them to compete with other larger swimming clubs in around the South of England. The grant will enable them to purchase new goggles and fins for those children that cannot always afford to have these key items of equipment to help them grow and develop their swim technique. To store kit safely they are purchasing a lockable wire cage. When the old pool was knocked down, they had to get rid of the old podium and want to purchase a new one, so that they can celebrate the children's successes at local time trials and galas.
Speaking of his support for the club Councillor Rowles said: "I am pleased we can offer the grant to help the club to purchase the new equipment required to further develop and grow our local swimming opportunities for young people."
The grant will also help towards purchasing new stop watches, counters, and clipboards for the volunteers, who had been supplying their own. The new kit will enable the club to have a professional presence at events and training.
Councillor Rebecca Meyer said: "The Andover Swimming and Water Polo Club is a great asset to Andover in supporting and developing young people's swimming. I am delighted to offer this grant to help develop the club further."
The Test Valley Borough Councillors Community Grant Scheme aims to support local people to establish their own priorities and deliver local solutions to local issues. It also aims to encourage community led initiatives, supported by Borough Councillors who can play an active part in helping their communities deliver their ambitions.
For more information about the council's grant schemes, visit www.testvalley.gov.uk