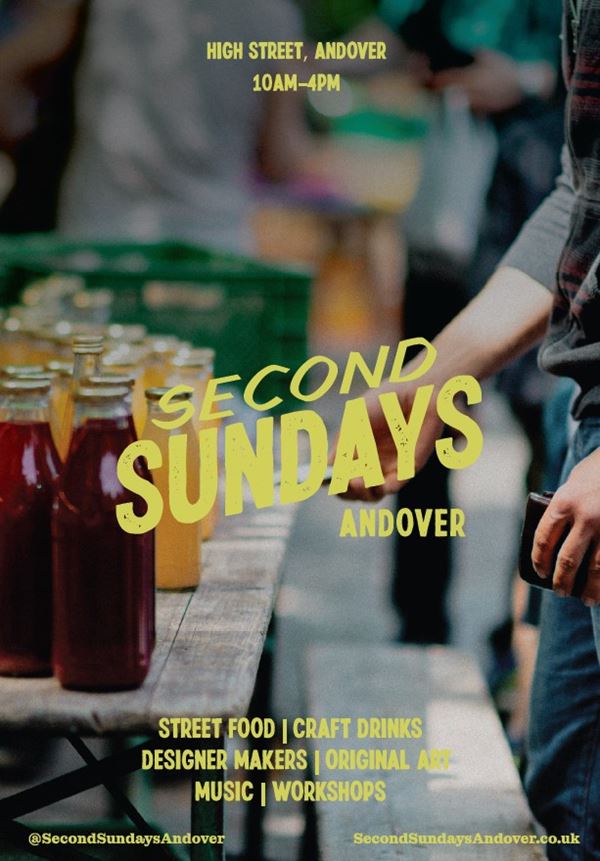 Crafts, cocktails and Christmas shopping in store at November's Second Sundays!
Andover's lively new market, Second Sundays, will be back on the High Street this Sunday, 13 November, 10am to 3pm, featuring a range of creative craft workshops, street food and local stalls.
Visitors can enjoy testing out their creative skills at some brand-new workshops this month including having a go at spin art and braiding wheels, run by local artists from Unity Art Studios. There will also be a special crafting activity to support Remembrance Day. All of the different workshops will be free to take part in throughout the event.
Adding to the creative classes on offer, regular trader Buttercups and Bobbins will be running some special intimate workshops where attendees will have the chance to create their very own winter floral arrangement in a plant-based container with a candle. These workshops can be booked in advance and tickets are available to purchase on Eventbrite at https://bit.ly/3UchcSR
Alongside the craft stations, local businesses will be providing a unique shopping experience where visitors can pick up some lovely gifts for Christmas. There will be a range of stalls set up in the High Street selling handmade jewellery, locally distilled gin, natural soaps, original art and much more.
Cocktails, local ales and spirits will be available to buy from the Andover Tap horse box and tempting street food will also be on offer, including mouth-watering raclette.
The town's pop-up seating space, Alfresco Andover, will be back in front of the Guildhall providing an ideal spot to sit, listen to the DJ's mixed set and soak up the atmosphere.
Second Sundays launched in June, and has been developed by HemingwayDesign, on behalf of Test Valley Borough Council. The market takes place in the High Street every month and welcomes a range of local businesses selling unique, hand-crafted items.
Second Sundays will be open 10am to 3pm on Sunday 13 November.
Leader of Test Valley Borough Council, Councillor Phil North, said: "Second Sundays is a fantastic addition to our town centre events programme and we've really seen it grow over the past few months.
"Not only is the market a great place to find new things to buy, but it also offers lots of interactive workshops and different food each month. We've only got two more Second Sundays taking place this year before a short break over winter, so I suggest heading into the town centre to enjoy the experience."
Keep up to date with the latest news from Second Sundays Andover on Instagram and Facebook. Traders who would like to apply for a pitch at future markets can do so at www.secondsundaysandover.co.uk