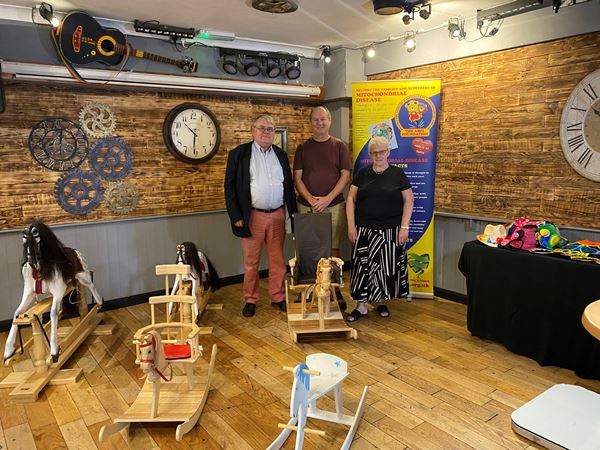 Abel Fest event boosted with a £1000 council grant
The Abel Foundation was recently awarded a Councillor Community Grant of £1,000 for the St Mary's ward to support Abel Fest, a community event where families can come together for a day of entertainment and fun.
The Abel Foundation charity supports those suffering from mitochondrial disease and this event was created to aid people and their families who deal with this life-limiting disease.
Abel Fest offers a chance for families to have a fun day out, enjoy a BBQ and a range of activities, such as face painting and rocking horse rides. There was also a photo booth for both the adults and children to record some fun memories, along with live music entertainment in the evening.
Cllr Iris Andersen presented a cheque on behalf of Cllr Victoria Harber and Cllr Jan Budzynski, she said: "I am so pleased that we can support the Abel Foundation charity. The community grant enables them to raise awareness and put on this wonderful event providing an opportunity for families who care 24/7 for their young ones to get together and enjoy a great day out."
Claire Noakes, from the Abel Foundation said "The grant was much appreciated we were able to purchase and provide BBQ food to all involved in the setup and running of Abel Fest and the sponsored walk raising awareness for the charity. Along with providing fun elements to the family fun day with toys for the children to play with and take home if they wished. The photo booth was a big hit and we shared the photographs on social media after the event.
"We also invited Alan Mehlin with his Rocking Horses and he has very kindly donated one of his personally handmade Rocking Horses to the charity."
The Test Valley Borough Councillors Community Grant Scheme aims to support local people to establish their own priorities and deliver local solutions to local issues. It also aims to encourage community led initiatives, supported by Borough Councillors who can play an active part in helping their communities deliver their ambitions.
For more information about the council's grant schemes, visit www.testvalley.gov.uk