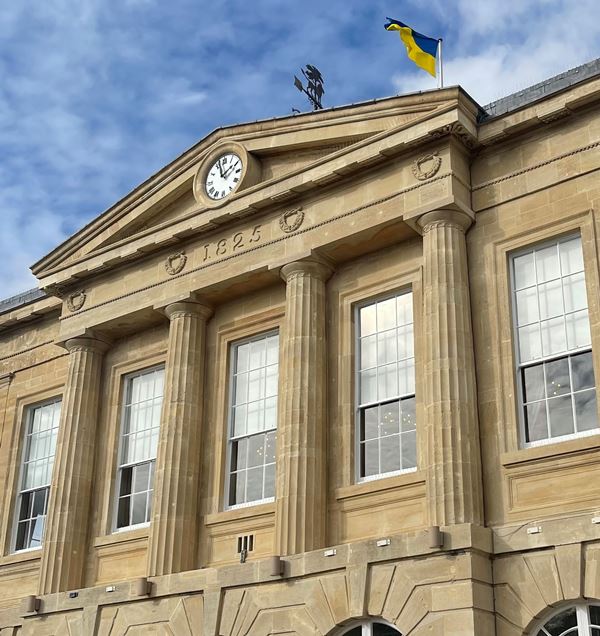 Celebrate Ukrainian Independence Day in Test Valley
To mark Ukrainian Independence Day, Test Valley Borough Council (TVBC) is hosting a celebration on Thursday 24 August 2023.
The event is taking place at Romsey Town Hall, starting at 5:30pm, and is open to anyone across the borough. The celebrations will start with complimentary tea, coffee and soft drinks, followed by a walk to Romsey Abbey to light candles, take a moment for reflection and a prayer for peace. There will also be live music from the band Kokopelli.
Since the war in Ukraine broke out, latest figures show that Test Valley has welcomed over 480 Ukrainian guests into the borough through the Homes for Ukraine scheme.
In June 2023, the Ukraine Support Team at TVBC put together an exhibition for Ukrainian Constitution Day. The exhibition was displayed in the windows of one of the units at Chantry Centre in Andover. Meanwhile in February, a special service was held at St Mary's Church in Andover to mark one year since the war began.
Leader of Test Valley Borough Council, Cllr Phil North, said:
"I'd like to say a big thank you to all the volunteers who have helped organise this event – as well as those who have offered their homes to our Ukrainian guests. Those who have arrived in the borough have quickly become important parts of our community and I have had the privilege to spend time with some of them and hear their harrowing but inspirational stories. I really do hope these families get a chance to return to their homeland as soon as they can but, in the meantime, I know they will continue to receive a warm welcome here in Test Valley."
To find out more about the Ukrainian Independence Day celebrations, contact refugeesupport@testvalley.gov.uk.