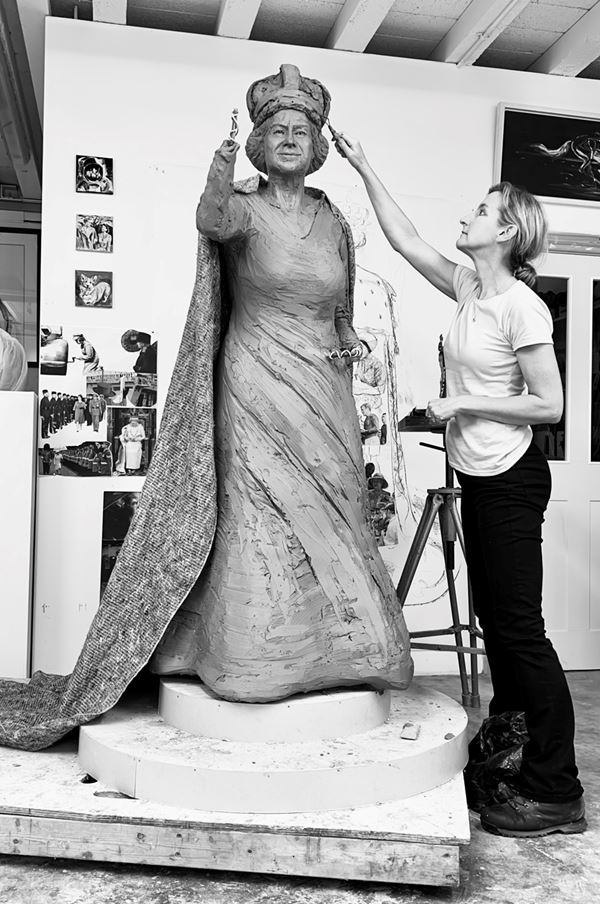 Residents invited to put their stamp on a royal statue this Sunday!
Residents and visitors to this week's Second Sundays market are invited to contribute pictures and ideas, as part of the engagement programme to support Test Valley's latest public art project.
Local sculptor and portrait artist, Amy Goodman, was commissioned to create two life-size sculptures of Queen Elizabeth II as part of the Platinum Jubilee commemorations. These impressive pieces of public art, one representing the monarch early in her reign and the other in the later years, will be located at sites in Romsey and Andover respectively. On the statues' cloaks, Amy plans to inscribe pictures telling the story of some of the events that took place during Queen Elizabeth's reign.
Leader of the council, Phil North, said, 'Early last year we took the decision to mark Queen Elizabeth's 70-year reign by commissioning two permanent reminders of her extraordinary service. Her Jubilee last year was a unique moment in our history - and just as previous generations did with other Jubilees, we felt it was incumbent on us to do something special. Of course, following her sad death last year, the statues have now taken on additional significance. We know that residents of all ages from across the borough will have memories of our late Queen, and of events that took place both locally and nationally, during her long reign, that they would like to share. Amy's engagement programme provides a great opportunity to have some of these committed to history, within the statues' design.'
Artist Amy Goodman said, 'It's important to me that people from all walks of life have their say in what Queen Elizabeth meant to them. This wonderful commission also gives me the chance to inspire people to follow their dreams. I feel so honoured to be creating these significant works of art for people to enjoy.'
Visitors to Second Sundays on 13 August, can come along with ideas for designs to go onto the cloak and get involved by drawing and painting some pictures with Amy.
Locations for the statues are yet to be finalised as engagement with the public will help determine these.
For more information on the art project and engagement programme: www.testvalley.gov.uk/queens-statues
The next Second Sundays is on Sunday 13 August, 10am to 3pm, Andover High St.