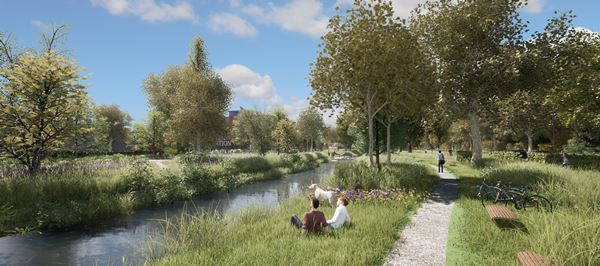 Council approves £6.5M to deliver next major masterplan project for Andover
Test Valley Borough Council has allocated £6.5M to completely redevelop the area around Western Avenue and extend the riverside corridor as part of the authority's ambitious Andover masterplan.
At a full council meeting yesterday evening (Thursday 23 February), members approved the money to transform the area, which will see the creation of a picturesque park as well as a stunning riverside walk south of Bridge Street to further showcase the town's charming River Anton water source.
To enable this to happen, TVBC has been working closely with Hampshire County Council as the highways authority to redesign the road layout in the area and free up space for pedestrians.
The focus on highlighting the town's existing assets stems from extensive public feedback through the Andover Vision and masterplan consultations, which encouraged the council to open up the river in particular for people to enjoy as it is largely hidden in the town.
As a first step, the authority created the new riverside park at Town Mills in 2021 to enable residents and visitors to relax and picnic by the water's edge. The space has also been used as a location for events, encouraging residents to move around the town.
The authority has said that it is keen to accelerate the project and get plans in place to enable work to begin as soon as possible.
Leader of Test Valley Borough Council, Councillor Phil North, said:
"The extension of the riverside corridor along Western Avenue will bring a huge number of benefits to our residents, nature, and the environment, so I am delighted that members voted to allocate the money to this project. There was a massive amount of public support to really make the most of the river as there aren't many town centres that are lucky enough to have such a stunning feature, and sadly ours is largely obscured due to the layout of the road network. As well as creating a stunning space for people to relax and picnic, the plans will also provide ecological benefits and really unlock the huge potential of the River Anton.
"Our journey towards the complete regeneration of Andover town centre is well underway and this is the next step towards delivering a town centre that residents can be proud of and will help to improve their quality of life.
"I'm incredibly grateful to our partners, particularly Hampshire County Council, who have been working with us to develop this scheme, and now we have secured the money we will progress the project as quickly as possible."
The authority will now appoint designers to progress the feasibility design into a detailed scheme, which it will then submit for consideration as part of a planning application.