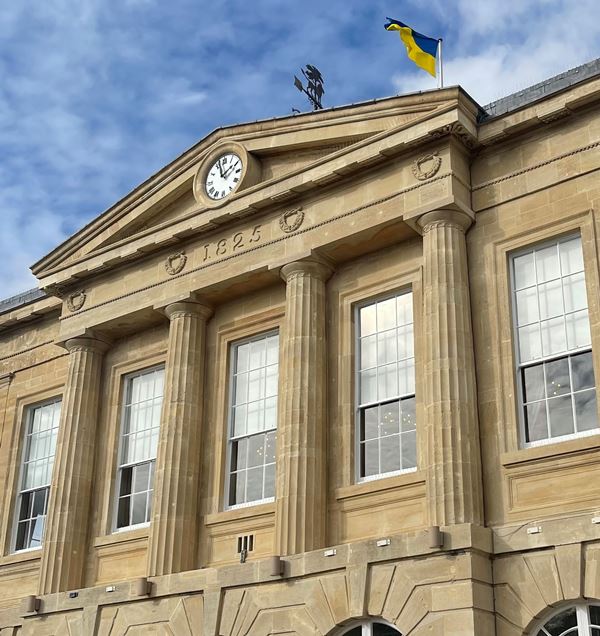 Special Test Valley events to mark one year since invasion of Ukraine
Test Valley Borough Council (TVBC) will be marking one year since Russia invaded Ukraine on Friday 24 February 2023 in many different ways.
The Guildhall in Andover will be lit up yellow and blue, the colours of the Ukrainian flag, all weekend, while the flag will be flown there and at all other council buildings.
TVBC staff will wear the country's colours on Friday and donate money to send to Ukraine to help injured soldiers, while TVBC councillors will do the same at their Full Council meeting on Thursday.
Elsewhere, between 3pm and 6pm on Friday, St Mary's Church in Andover will host a special drop-in, which everyone is invited to attend. There will be Ukrainian music playing in background, and dedicated areas for prayer. Candles will be provided should anyone wish to light one.
There will also be a national 2-minute silence at 11am.
Since the war broke out, Test Valley has welcomed 455 Ukrainian guests, with 325 hosts in the borough.
Leader of Test Valley Borough Council, Cllr Phil North, said:
"It's important that we take a moment on Friday to reflect on what has been a horrendously difficult year for the Ukrainian people and just how appalling Russia's attempted invasion of their country has been. We should take huge inspiration from the bravery and courage shown by the Ukrainian Army as well as those resilient refugees who have had their families ripped apart, in many cases depriving children of their dads.
"The hundreds of Ukrainians who have arrived in the borough have quickly become important parts of our community and late last year I was privileged to spend time with a group of them, hearing their stories. The sooner Putin is made to end this insane war and these inspirational families get a chance to return to their homeland the better. In the meantime, I know they will continue to receive a warm welcome here in Test Valley."