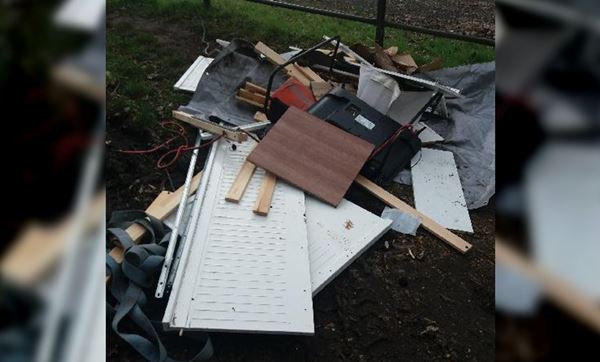 Warning for residents to check who's removing their waste after woman sentenced for fly-tipping incident in West Wellow
Test Valley Borough Council (TVBC) is warning residents to check if the people removing their waste are licensed, after a woman from Romsey found herself in court when someone dumped her rubbish in Foxes Lane, West Wellow early last year.
On 28 February 2022, TVBC received a report about a large waste deposit on the rural lane near Romsey.
It contained wardrobe doors, wood, broken furniture, an old TV, heater, some metal, a large tarpaulin, cardboard boxes and other items of general household waste.
TVBC officers found evidence within the rubbish that led them to 30-year-old Vicky James, of Malmesbury Road in Romsey.
They invited Ms James to attend an interview under caution where she stated that she had transferred her waste to a man who had cold called at the property.
The gentleman did not provide any transfer notes, and Ms James did not check to see if he was an authorised waste carrier before handing over £100 for him to remove the rubbish.
Appearing at Southampton Magistrates' Court on the 18 January 2023, James pleaded guilty to failing to ensure that her waste was disposed of properly and was handed a conditional discharge for six months and ordered to pay costs of £153 and a victim surcharge of £150.
Portfolio holder for environmental services, Councillor Nick Adams-King, said:
"If you are ever thinking about paying someone to take away your waste, please make sure they are licensed to do so. They must have a waste carrier licence and they must provide evidence of that before removing the rubbish.
"Failure to undertake these checks will result in you facing the consequences if someone goes on to fly-tip your waste. In this particular case, the lady not only paid £100 for her rubbish to be removed but has been ordered to pay a further £300 as a result of it being dumped. Please don't let these unscrupulous criminals take advantage and allow someone else to land you in court."
Residents can check if a waste carrier is legally licensed by visiting the Environment Agency website at https://environment.data.gov.uk/public-register/view/search-waste-carriers-brokers.