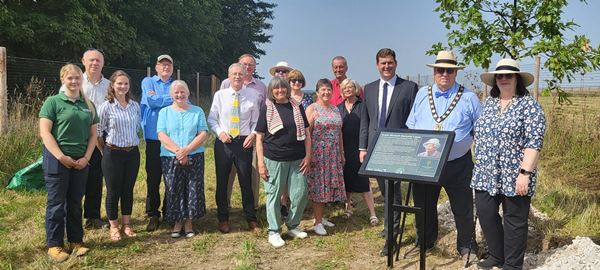 Copse at Bury Hill named in memory of Queen Elizabeth II
At a ceremony on Friday afternoon (8 September), a meadow at the new Bury Hill site in Andover has been dedicated to the late Queen Elizabeth II.
The copse area has been officially named Queen Elizabeth Memorial Copse, as a tribute to Her Majesty and the number of important connections she has to the borough of Test Valley.
Bury Hill was purchased by Test Valley Borough Council (TVBC) in 2021 for wildlife, recreation and public access to the countryside.
The site has been transformed into a beautiful chalk grassland area which visitors can easily walk around and take in lovely views across the borough.
As part of the Queens Green Canopy national initiative, 1,500 Native whips were planted in the winter of 2022 at Bury Hill by Andover Trees United along with local school children, as part of their annual planting fortnight. A further 1,500 will be planted this winter.
The Mayor of Test Valley, Cllr Phil Lashbrook, delivered a speech at the ceremony and officially declared the naming of the area.
Cllr Philip Lashbrook said:
"It was a privilege and an honour to deliver a speech and officially name the area, Queen Elizabeth Memorial Copse. There are a number of important connections between the borough of Test Valley and Her Late Majesty Queen Elizabeth II. Broadlands in Romsey where the late Queen frequently visited throughout her life and the home of the Army Headquarters in Andover.
"The Palace and Cabinet Office have kindly granted Test Valley permission to dedicate this copse as a long-lasting memorial in honour of the late Queen and as a living legacy and tribute to the service she gave to the country."
Leader of Test Valley Borough Council, Cllr Phil North, said:
"Bury Hill is a beautiful area and it seems fitting that we name part of it after the longest reigning monarch in our history. Despite only opening recently, it's a site we are incredibly proud of and would encourage people to take a walk around and appreciate the countryside, wildlife and beautiful views our borough has to offer."
For information on how to find the site visit the Test Valley Borough Council website.