Love Food Hate Waste
Research by WRAP indicates that on average £70 a month is wasted by each household on food it does not eat.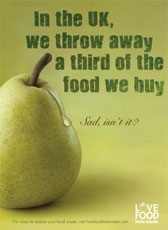 There are many reasons why so much food is being thrown away, these include:
food not being eaten before it goes off
food not being stored correctly to maximise its useful life
people getting confused by 'sell by' and 'use by' dates
too much food being cooked and the excess thrown away
people not always planning their meals
people not checking what food they have already before they go shopping.
Food waste is such a problem that WRAP set up a national campaign called Love Food Hate Waste. The aim of the campaign is to raise awareness and to provide householders with advice and information on how their household can reduce waste and save money. If householders are aware of what food is thrown away, then they can take action to reduce or eliminate it.