Bury Hill Meadows Nature Reserve
The land known as Bury Hill Meadows which lies to the south of Bury Hill Ring comprises 15 hectares of newly establishing wildflower meadow and woodland, in combination with mature hedgerows, standard trees and established grassland, which is to be managed as a Nature Reserve for the benefit of wildlife and people.
Situated in Upper Clatford, approximately 2 miles South West of Andover, Bury Hill Meadows was purchased in 2021, as a result of developer contributions to help improve access to the countryside.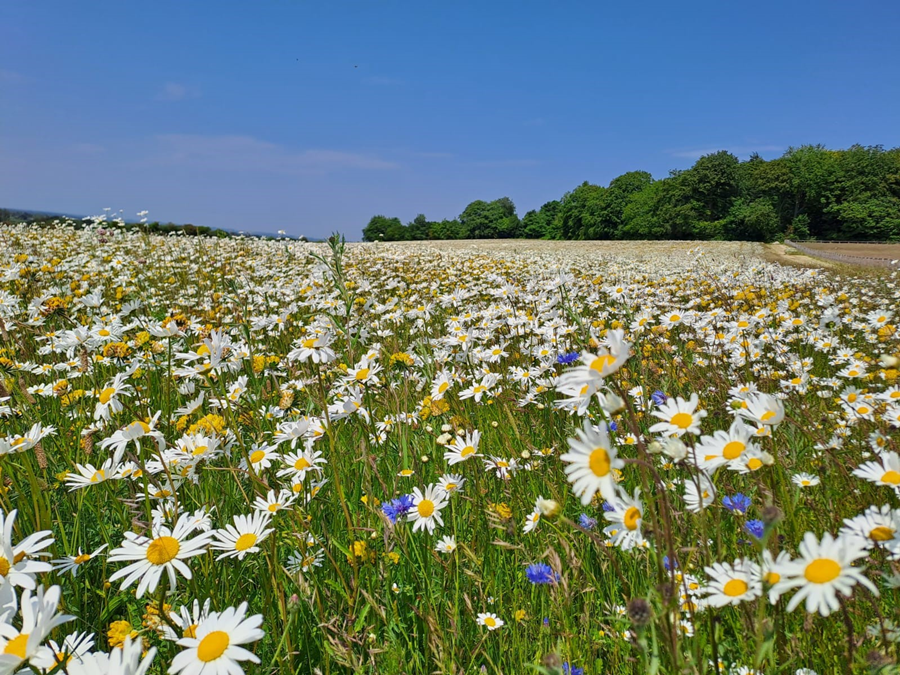 The site is divided into two fields and aims to provide a safe, accessible green space for the surrounding communities, through the use of mown paths to create an interesting multi user experience. The site offers several off road routes around the site of varying length, incorporating breath taking views across Test Valley and onto the North Wessex Downs AONB. This historical landscape also offers views of the nearby Danbury Hill Fort as well as the adjacent Bury Hill Ring.
Test Valley Borough Council are working in partnership with Andover Trees United to plant a small section of woodland to the south of the site. The project will expand on ATU's commitment to involve all school children in community tree planting and will see schools invited to take part in this years planting fortnight hosted at Bury Hill Meadows, which will expand on planting that was carried out by the group in 2022. The partnership will continue to deliver tree planting on site for several years to come.