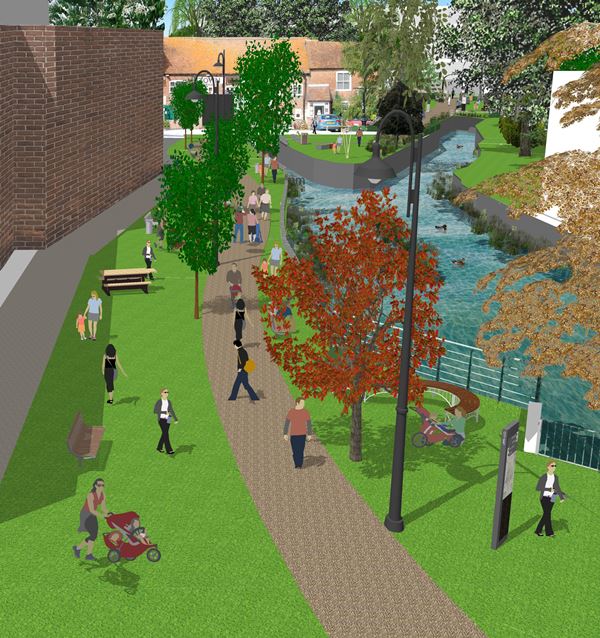 Call for Hampshire arts organisation to lead community project in Andover
Test Valley Borough Council is looking to recruit a Hampshire-based arts organisation to lead a project that will review existing artwork in Andover and propose a concept for future public art.
The successful organisation will be asked to help the local authority creatively engage with residents and stakeholders to learn more about people's views of current artwork in the town and then use feedback from these public consultations to propose ideas for two new public art commissions.
The intended location for the forthcoming works will be in the area surrounding Town Mills which is currently being transformed into a new riverside park. The redevelopment has been progressing rapidly over the past few months, and in the coming weeks new walkways will be constructed in the area to provide an attractive route for walkers and cyclists and a new riverside park and pocket park will be created to help showcase the river and wildlife in the area.
The parks will be full of trees and luscious greenery and will provide a fresh new space for people to relax, picnic, play and enjoy. To enhance the beautiful new location in the centre of town, the council has aspirations to position one of the new pieces of public artwork near to the Wilko building, which faces the river. The location of the second piece will be inside the riverside park, with a view to the design making a functional as well as aesthetical contribution to the new landscape.
Leader of Test Valley Borough Council, Councillor Phil North, said "The Town Mills redevelopment is really coming together and will mark the first step towards the total transformation of Andover town centre, following the launch of the masterplan for Andover last year. Our goal for this project is to create a space that can be enjoyed by all and encouraging the community to help develop two new pieces of artwork for the park is such a fantastic way to bring people together and let them be a part of the future of Andover. This will be a wonderful asset for the town that residents, visitors and people of all ages will be able to enjoy for years to come."
The community art project will be entirely funded by developer contributions and supports the council's ambitions for Public Art in the Test Valley to involve, inspire and intrigue. To find out more about the project, the requirements and how to apply, visit: https://www.testvalley.gov.uk/communityandleisure/artsandculture/publicart/public-art-commissions
Applications must be submitted by 12noon Tuesday 16 February 2021 and emailed to fperkins@testvalley.gov.uk.
The redevelopment of the area surrounding Town Mills is a joint project between Test Valley Borough Council, Hampshire County Council and Andover Vision and has received more than half a million pounds in funding from the Enterprise M3 Local Enterprise Partnership (LEP).