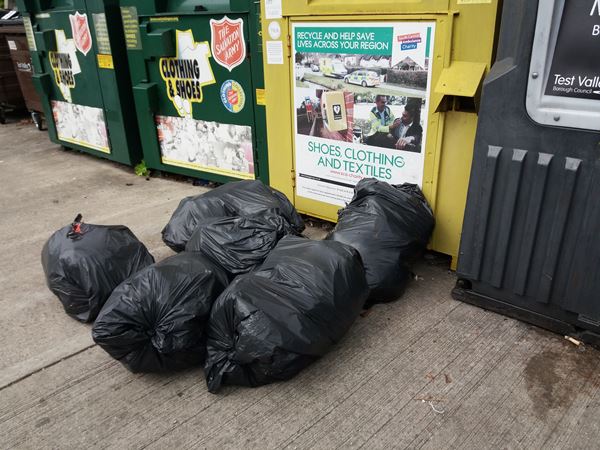 Fine for fly-tipper who dumped waste outside supermarket
A man has been made to pay almost £1,500 after dumping nine big bags full of waste by recycling bins at the town's Asda supermarket, Andover.
Back in May 2019, Maneva Costell dumped the household rubbish by the bins, claiming that he wasn't aware it was illegal to do so. After officers from Test Valley Borough Council became aware of the waste, first checks found that three of the bags contained textiles, and could have been placed in the recycling bins themselves.
However, nappies, food waste and general decaying waste was discovered in the other six.
At Basingstoke Magistrates Court, Mr Costell, of Harefield, admitted fly-tipping and was fined £480, ordered to pay £902.25 in costs and a £48 victim surcharge.
Environmental portfolio holder, councillor Alison Johnston, said: "I can understand the temptation of leaving bags of waste by the public recycling bins at our local recycling centres (LRC). However, that is not their purpose. We make it as clear as possible at all of our LRCs that leaving bags of waste by the bins will be treated as fly-tipping. Our LRCs are for recycling glass, textiles and other materials, which thousands of residents use each year. In this case, some of the materials that were dumped were then simply put into the textile bank by our officers.
"Ignorance is no excuse and whatever the reason for fly-tipping, it's never acceptable. It costs the taxpayer to clean up and it takes our officers time to get the job done. However, we have a zero-tolerance approach and will investigate every single case that comes in to us, as we know it's not fair for our residents to have to pay for someone else's mess."