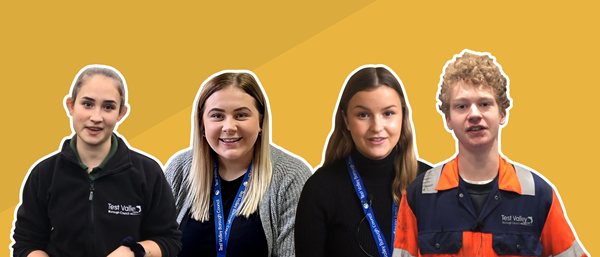 Shining a light on apprenticeships
Test Valley Borough Council is celebrating this year's National Apprenticeship Week by showcasing the outstanding work of its apprentices across the organisation and encouraging people to apply for a host of fantastic new roles on offer.
On Monday the authority launched a social media campaign to show the value of apprenticeships for both the employee and the council.
Throughout the week, TVBC will be sharing a series of videos and blogs to offer an insight into what an apprenticeship is and what it typically involves day-to-day. And they're hoping that this will help to whet people's appetites as they are recruiting for a variety of new apprentices for 2021!
For those who enjoy getting out and about and indulging in a spot of fresh air while they work, the council is offering roles in its grounds maintenance and countryside teams, and there will be brilliant posts up for grabs in sports development, customer service and business administration too. To find out more about TVBC apprenticeships and how to apply for the current vacancies visit www.testvalley.gov.uk/apprentices
The council currently has apprentices working in its countryside team, finance and revenues service, environmental service, customer services and planning and building service. Their work can range from tending to the borough's nature reserves to helping process vital business support funds.
Andrew Ferrier, chief executive at Test Valley Borough Council, said: "We have some great success stories in the council where apprentices have gone on to take permanent roles here at TVBC, and we're really lucky to have such great people working with us. We try to offer our apprentices a well-rounded opportunity and part of that involves encouraging them to share their own views and ideas to help them to get the most out of their time with us. Every apprentice has a mentor to assist them with their role and studies, so there's lots of support along the way.
"It's for these reasons that we have so many former apprentices still working with us today. Hopefully this week will really help to showcase our amazing apprentices and give people a flavour of what they can expect from an apprenticeship at Test Valley Borough Council. And we hope that will encourage people to apply for one of the brilliant roles we have on offer!"
Freyja Bates, business administration apprentice in environmental services, added: "I am studying business administration at Andover College as part of my apprenticeship and I am really enjoying it. I am learning so much and I also get to shadow different job roles in the organisation, which gives me a really useful and much broader insight into the work of the council. I have gained new skills such as mastering Excel spreadsheets and I get involved in lots of different jobs and projects, which is great."
The aim of apprenticeships is to support individuals to develop the skills and knowledge required for a rewarding career, and assist employers to develop and grow their own talent and build a strong workforce.
Leader of the council, councillor Phil North, commented: "I am proud to lead an organisation that recruits and looks after such a wide range of apprentices, enabling staff to earn why they learn."