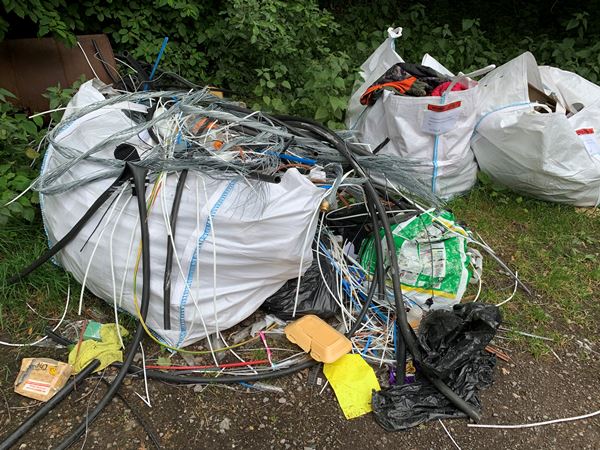 Sisters prosecuted after two fly-tips found in borough
Two sisters have been ordered to pay more than £1,500 by the courts after failing to explain how their waste ended up fly-tipped in two car parks.
An investigation was launched by Test Valley Borough Council officers after waste was dumped at the Stoneymarsh car park along the A3057 last year. Another load of waste was also discovered at Cowdown Lane near Andover.

The authority's environmental service began looking in to the fly-tips and discovered the rubbish, full of cables and pipes and other waste.

After sending them both a formal request to attend interview, neither responded for the separate fly-tips, which resulted in a day at Basingstoke Magistrates Court earlier this year.

Carla Matthews was fined £1,100, ordered to pay £286 compensation to TVBC for the clean-up costs, and a further £110 victim surcharge for failing to respond to a request for interview regarding the Stoneymarsh fly-tip.

Chantell Matthews was fined £120, ordered to pay £39 in compensation and a £34 victim surcharge for the same offence regarding the waste on Cowdown Lane.
Environmental portfolio holder, councillor Alison Johnston, said: "As we have said multiple times, we investigate every single report of fly-tipping that makes its way to us. Part of our process is that we need to speak to those involved in what we find. If a letter comes through your door with a formal request to interview, do not ignore it, otherwise you too could find yourself with a criminal record and a substantial sum to pay to go along with it.
"Fly-tipping is very clearly a blight on our borough. This waste was left at one of our most popular car parks along the Test Way and is used regularly by visitors. Having huge bags full of cables, pipes and other rubbish dumped there shows a total lack of consideration for visitors using these important amenity spaces and is despicable behaviour."