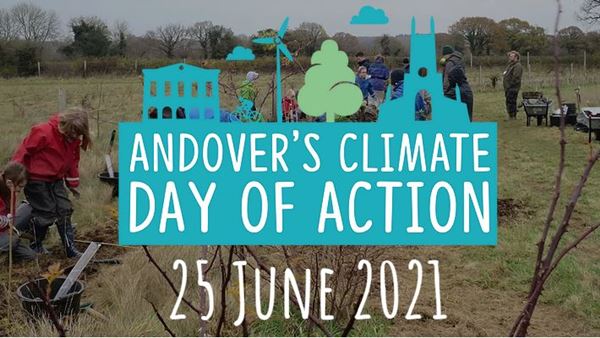 Town pulls together for Climate Day of Action
Andover came together last week to help address the changing environment through the town's first Climate Day of Action.
Launched by community partnership Andover Vision, businesses, community groups and charities all took part and committed to how they can continue to make a difference in the face of climate change.
Residents left pledges at the Andover Vision stall in the high street, with school pupils across the town vowing to recycle more and help plant trees in the years to come. Partners of Andover Vision, including Test Valley Friends of the Earth and Andover Trees United, also held stalls in the town to help educate and inform members of the community on how to play their part now and in the future.
Organisations in the town, including Test Valley Borough Council, took part in the day, with the authority lending out litter-picking equipment and working with local nursery, Finkley Down Farm Nursery and Preschool to teach them how to make, and then plant, seed bombs.
Simplyhealth collected bags of waste, three shopping trolleys and a pallet among other items in their river clean, while media outlet Love Andover committed to a monthly litter pick.
Chair of Andover Vision, Phil North, said: "Above all, I'm incredibly grateful to everyone who took part in the day. Without committed residents, businesses and community groups, Andover's Climate Day of Action simply wouldn't have been the success that it was.
"Days and events such as these rely on the people of the town to come together, not only to make the day as worthwhile as can be, but also to make the lasting change that Friday was calling out for. Whether it was schools teaching young students about the impact we all have, or residents learning what and how we recycle, I know that the hard work of everyone who put this day together will have been worth it."