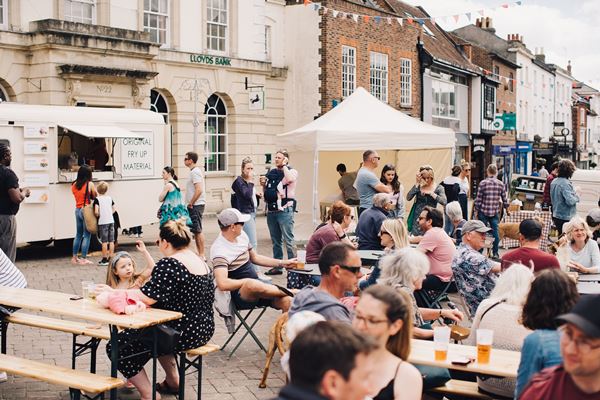 Second Sundays market proves a hit, with August set to be bigger and better than ever!
Andover's flourishing new event, Second Sundays, will burst back onto the High Street on Sunday 14 August, 10am to 4pm, with the largest number of stalls and workshops yet.
Following the success of the previous two events, visitors can look forward to meeting a host of new traders this month selling vintage clothing, colourful handmade jewellery, beautifully crafted ceramics and stunning prints.
Familiar faces will also be returning to the popular event, selling a range of quality goods including wax melts, picture-perfect floral displays and scrumptious cakes.
August's food and drink offering is sure to keep everyone refreshed throughout the day with aromatic Indian street food and handmade pizza on offer, plus freshly brewed artisan coffee and a selection of ales and spirits.
Andover's seating area, Alfresco Andover, will also be popping up in front of the Guildhall so everyone can relax, enjoy the weather, eat good food and listen to the DJ's set featuring a mix of hip hop, soul and Reggae.
In addition to the market stalls, visitors will have the opportunity to take part in three specially curated workshops. Free drop-in sessions include a collaborative drawing activity and the chance to create block print art. Alongside these, some very special jewellery classes will take place, whereby attendees will have the chance to make a silver ring. Tickets for the jewellery classes are limited and can be purchased at: www.eventbrite.co.uk/o/jewellery-moves.
The growing monthly market, which launched in June, has been developed by HemingwayDesign, on behalf of Test Valley Borough Council.
Wayne Hemingway from HemingwayDesign said: "When HemingwayDesign and the team started to work on a vision and masterplan for Andover town centre back in early 2019 it soon became apparent that the High St and the area around the Guildhall should be home to a regular social coming together of the region's best makers, designers, producers, street food sellers and DJs. Second Sundays Andover has got off to a wonderful start and I urge everyone to come into town for edition three on 14 August and enjoy the largest one yet, have a drink and a bite to eat, tap a foot or two to great DJs and take home some lovingly produced fashion, accessories, homewares, artworks and local food and drink produce."
Local traders have also delighted in the success and popularity of the new market. Ben from start-up business Trailside Coffee, who has attended the past two events, said: "It's been fantastic to have an event like Second Sundays Andover that can showcase smaller craft businesses.
"For a start-up like Trailside Coffee, it's been invaluable for building connections, growing the business and meeting like-minded people doing great things. The local community has been really supportive and we're always delighted to come back here and bring some good ol' coffee to the people of Andover and the surrounding area."
Hannah from Honey Bakes, who has also had a pitch since the event launched said: "The Second Sundays market has been a wonderful addition to the Andover community and a great opportunity to support local businesses.
"I've been lucky enough to trade at each event in June and July and the atmosphere at both has just been fantastic. Great music, amazing food and drink and some really wonderful small, creative and unique businesses. Both events for me personally have been complete sell-outs and it's been great seeing customers returning to enjoy my treats and soak up the amazing atmosphere this market brings to Andover every month. Second Sundays will definitely be a monthly event I will continue to trade at. Not only has it helped my business grow, by allowing me to meet lots of new faces and promote and showcase Honey Bakes within my home town, the success of each event has given me a huge boost of confidence and enjoyment throughout and I always look forward to the second Sunday of each month now."
Leader of Test Valley Borough Council, Councillor Phil North, said: "The response to Second Sundays has been immensely positive. Not only are more and more people coming to the town to visit each month, we are also seeing some really great outcomes for the local businesses that attend.
"Andover has so much to offer and this monthly event really demonstrates the amount of talented local producers that we have in the area. This is a wonderful event for the community to enjoy, whether visiting for the day or stopping by for an hour. I'm really looking forward attending the next one."
Second Sundays will be open 10am to 4pm on Sunday 14 August.
Keep up to date with Second Sundays Andover on Instagram and Facebook for the latest updates. Traders who would like to apply for a pitch at future markets can do so at www.secondsundaysandover.co.uk