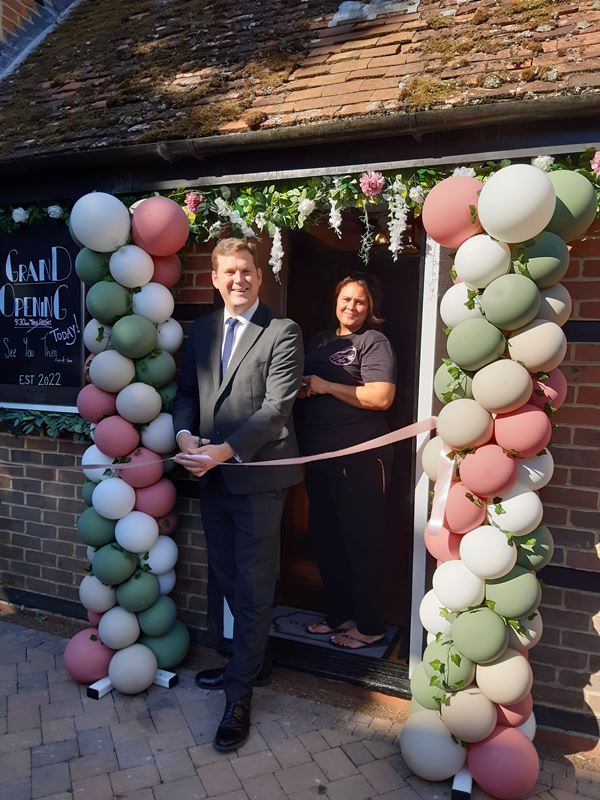 Town Mills Riverside Café opens its doors
The stunning new Riverside Café overlooking the tranquil River Anton opened its doors today (Friday 12 August)!
Run by the owners of SP Bar, the charming café in Town Mills Riverside Park sells a range of sumptuous snacks, from delicious wraps and panini, to artisan coffees and lip-smacking smoothies. And there is Mr Whippy ice cream swirled with tantalising toppings on offer for those looking for a sweet treat to help them cool down in the hot weather.
The new café is located in the former Just Kutz unit and is open seven days per week.
Manager Stephanie said: "The Riverside Cafe is ready for this summer and we hope you will join us for the opening on Friday 12 August! We will be open seven days a week serving a range of treats using fresh local produce.
"We really can't wait to open and show you everything!"
Leader of Test Valley Borough Council, councillor Phil North, said: "It's great to see the Riverside Café open. The Riverside Park is such a lovely, vibrant part of the town centre since we transformed the area in 2021. To get a great new café in there to sit alongside the ever popular Town Mills pub with its beautifully refurbished garden, has been the perfect finishing touch. Creating spaces for people to relax and socialise is a major focus of the town centre masterplan, and I hope this gives people a flavour of what's to come over the next few years. And we're running some brilliant free events in Town Mills over the summer, including picnics and family activities, so make sure you check it out.
"I wish Stephanie and Ricky all the very best."
Follow the Riverside Café on Facebook and Instagram @riversidecafeandover for the latest news and exclusive updates.