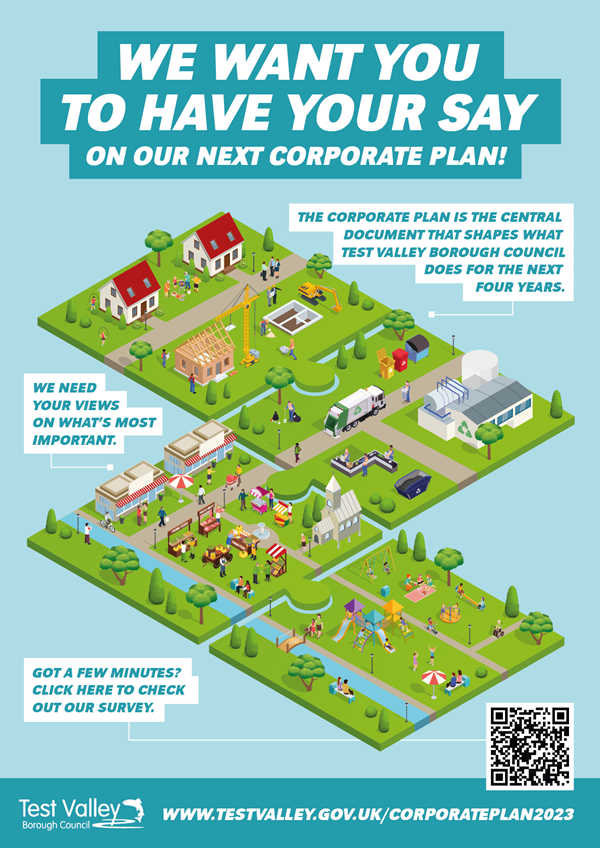 Have your say on your future
Residents and businesses are being encouraged to have their say as Test Valley Borough Council has today launched a public consultation on one of its most important plans. 
The authority is seeking the views of residents to shape the priorities for its new Corporate Plan, which will run from 2023 until 2027.
The authority's Corporate Plan sets the clear vision for the council over a four-year period, from 2023-2027, influencing TVBC's decisions and actions throughout that time. Each year, a Corporate Action Plan is then developed to show how officers and councillors are delivering on these priorities.
The survey is available at www.testvalley.gov.uk/corporateplan2023
Over the summer, councillors and council officers will also be at various community events up and down the borough to speak to residents about what their priorities are.
This first phase of the consultation will run until September, before the council brings these views together alongside other information in a second phase, engaging with community members to help shape the development of the priorities.
The current Corporate Plan, Growing Our Potential, is set to come to an end in April 2023.
Leader of Test Valley Borough Council, councillor Phil North, said: "The last four years have produced some considerable challenges, but we have been able to protect our frontline services, deliver improvements to our town centres and do some significant work preparing for a new enhanced recycling service. We want to build on those as we look forward to the next set of priorities in a changing environment.
"So, whether it's access to nature, the leisure facilities you use or how we help deliver affordable homes, what you think matters to us.
"Therefore, I would strongly encourage residents to have their say whether that's through our online survey or coming to say hello at one of the many events we will be attending this summer."