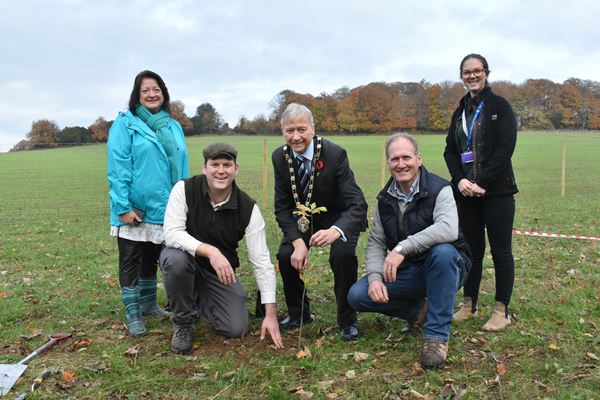 Andover school children planting the seeds of new project at Bury Hill
Around 1,000 children from schools across Andover and surrounding villages are taking part in tree planting over the next three weeks to mark the start of a project to officially open a new green space, just south of Bury Hill.
It's going on for the next three weeks
Around 1,000 children are taking part
They're working towards an official opening next year
Test Valley Borough Council purchased the land, near Upper Clatford, using money secured from developer contributions to help improve access to the countryside.
The aim is to create a space for the public to enjoy, with an official opening in 2023.
As development gets underway, the school children will help plant over 1,000 trees as part of a small woodland creation at the bottom of the site.
Leader of Test Valley Borough Council, councillor Phil North, said:
"It's great to see so many of our local school children taking part in tree planting over the next few weeks. It's a great opportunity for them to be involved with this project, as they will be able to use and enjoy the space for years to come.
"Once completed it will be a wonderful area for our communities to explore, and provide a further boost as we work together to fight climate change."
Anna ward councillor David Coole said:
"This is an exciting project and marks the long-awaited start of the journey as we move toward an official opening next year. This is a fantastic opportunity for our school children to learn more about the environment and the importance of trees and I can't wait to see the difference the planting makes to the local area."
Test Valley Borough Council has teamed up with Andover Trees United for this project.
Wendy Davis, founder of Andover Trees United, added:
"We are delighted to be working with Test Valley Borough Council in a partnership that will support the young people and schools of Andover and villages to continue their annual tree planting, now that their decade of creating Harmony Woods is complete. The trees will benefit the natural world, providing varied habitat for many living things and will of course help to offset some of our CO2 emissions and help all our efforts to mitigate the climate crisis.
"We would like to thank everybody who has helped to fund this year's tree planting, including donations of trees from the Woodland Trust, OVO and Carbon Footprint."
Andover Trees United are still also looking for volunteers to help out over the next few weeks, if you're interested email sarah.kennie@andovertrees.org.uk.