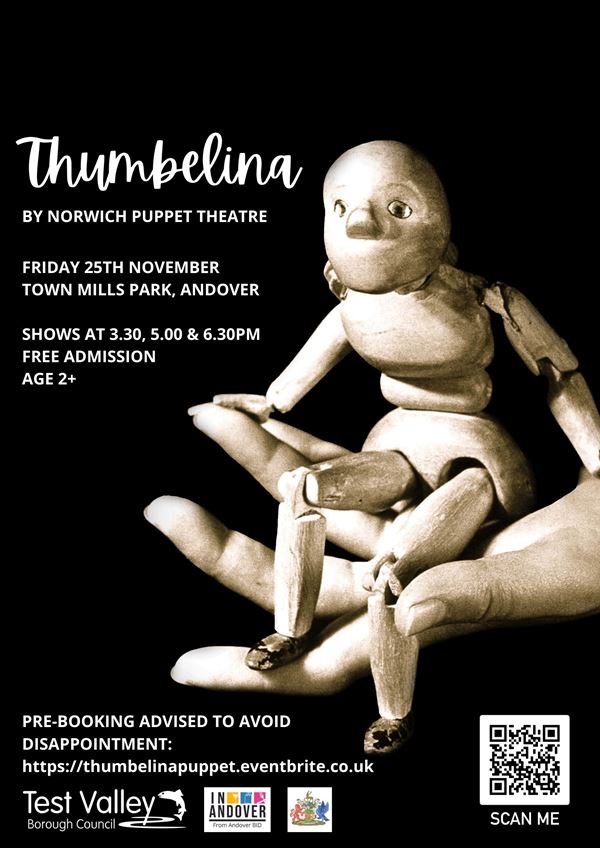 Magical puppet show heading to Town Mills Riverside Park this Christmas
A delightful and heartfelt retelling of Hans Christian Andersen's fairy tale, Thumbelina, is set to entertain audiences at the Andover Christmas Festival in Town Mills Riverside Park on Friday 25 November.
Created by Norwich Puppet Theatre, Andersen's tale all about the adventures of a tiny girl no bigger than a thumb is brought to life using a combination of rod puppets, glove puppets and shadow play alongside music, movement and songs.
The show's simple design combines with great traditional storytelling and character acting to portray the tale of a girl who is so tiny that she can float on a lily pad and ride on the back of a dragonfly. During the show audiences will follow the tiny heroine's adventures and encounters with a toad, a mouse, a mole and a swallow on her journey to find freedom and happiness.
Thumbelina is guaranteed to captivate families at the festival on 25 November with the charming story set to engage both the young and the young at heart.
The play will take place in a vintage tent situated in Riverside Park at Town Mills, with three live performances running at 3.30pm, 5pm and 6.30pm. Tickets are free, although spaces will be limited so booking in advance is recommended to avoid disappointment.
For tickets visit https://thumbelinapuppet.eventbrite.co.uk
The puppet show will form part of the Andover Christmas Festival, a free event with activities and attractions taking place across the town to launch Andover's festive season. Andover Christmas Festival is brought together in partnership by Test Valley Borough Council, InAndover by Andover BID and Andover Town Council.
The show was originally devised by Karen Torley at the Norwich Puppet Theatre more than 20 years ago and has been adapted several times over the years. It remains a classic favourite within the theatre's current repertoire, continuing to delight and entertain audiences everywhere. Norwich Puppet Theatre is one of only a few dedicated puppetry organisations in England, and the company perform for audiences across the UK and internationally all year round.
Leader of Test Valley Borough Council, Councillor Phil North said: "It will be a real treat to welcome Norwich Theatre Company to Andover and watch their retelling of Thumbelina.
"Riverside Park will provide the perfect setting for such a magical tale and I hope lots of families will enjoy the show as part of the evening's celebrations."
Tickets are available to book now at: https://thumbelinapuppet.eventbrite.co.uk