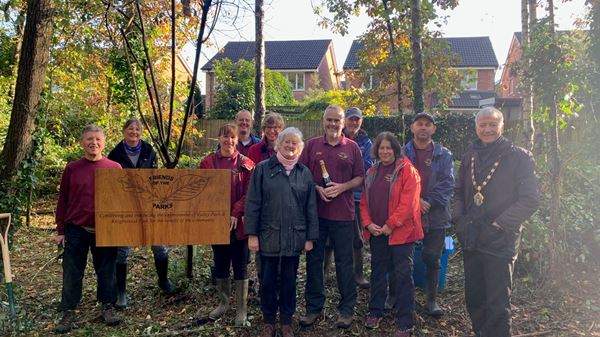 Test Valley Mayor joins 20th anniversary celebrations for Valley Park group
The Mayor of Test Valley, Cllr Alan Dowden, joined Friends of the Parks Knightwood on Sunday 20 November to celebrate their 20th anniversary.
The group have raised around £1,000 for charity in that time
They have completed about 200 jobs in the last 20 years
The Mayor joined the group to plant a tree in celebration
Since it was founded in 2002, the group has gone on to complete around 200 jobs including tree planting and restoration in Valley Park.
The Mayor and Mayoress visited the team and held a small toast, thanking them for all of their hard work over the past 20 years.
The Mayor also planted a tree while he was there to mark the occasion.
In the two decades, FOTP has made well over 1,000 bird, bug and bat boxes, helped at numerous pond dipping events and replaced and mended boardwalks and footpaths.
The group has also planted thousands of new trees, five community orchards and raised around £1,000 for Marie Curie through plant sales.
Mayor of Test Valley, Cllr Alan Dowden, said:
"It was very special to be able to celebrate Friends of the Parks Knightwood's 20th anniversary. For two decades the group has been doing some great work in the local area, keeping Valley Park woodlands in such good order. I congratulated them all on their hard work and all they have done for the town.
"It was also a pleasure to plant a tree to replace the many that we have sadly had to remove behind Sandringham Close due to ash dieback."
Friends of the Parks Knightwood meets every three months.
To find out more contact fotp@btinternet.com, or visit www.valleyparkparish.org/about/friendsoftheparks.