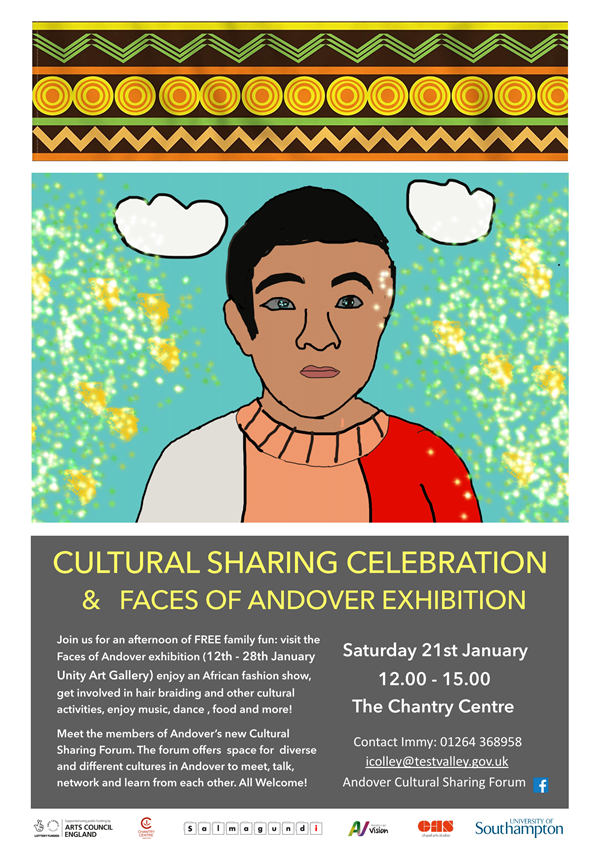 Diversity and culture being championed at new Faces and Places of Andover exhibition
Enjoy an African fashion show, music, dancing, food and hair braiding in the Chantry Centre this weekend, as a new exhibition in Andover is being celebrated.
The Faces and Places of Andover exhibition launched on 12 January and is in the Unity Art Studios until 28 January.
This Saturday (21 January) the Andover Cultural Sharing Forum are holding a free afternoon celebration with its members and the Mayor of Test Valley, Cllr Alan Dowden, and the public are invited to join them.
It starts at 12pm and runs until 3pm.
The event is free and will feature a number of stalls including Afrike Boutique, Andover Museum and the Andover Muslim Community Association sharing Bangladeshi and Palestinian food.
You will be able to meet the members of Andover's Cultural Sharing Forum, which offers space for diverse and different cultures to embrace each other and share experiences.
The Cultural Sharing Forum first came together at the start of 2022.
Test Valley Borough Council's Community Engagement Team had been in touch regularly with local community leaders from the Muslim, Nepalese and Chinese communities in Andover throughout the pandemic, to ensure that any emerging needs were addressed.
From these conversations, officers and community leaders started meeting more regularly to discuss the idea of forming a group of residents from Andover's diverse communities and what the best way to approach for this may be.
The group now meets once a month.
Cllr David Drew, Portfolio holder for Community and Leisure, said:
"The Faces and Places of Andover exhibition is a fantastic idea and the celebration event on Saturday will be exciting and informative. It's brilliant to be able to bring together different cultures and backgrounds so our residents can share experiences and really learn about who is living in our diverse town. I would encourage the public to attend the event on Saturday and have a look around the new exhibition."
Cllr Tracey Tasker, Portfolio holder for Housing and Environmental Health (including Diversity and Inclusion), added:
"When people from different cultures and backgrounds come together, everyone benefits. This is a brilliant opportunity for residents to meet each other, where they may not have had the opportunity to do so previously. At the event on Saturday, there will be many different cultures in attendance and it would be great to have as many residents there as possible."