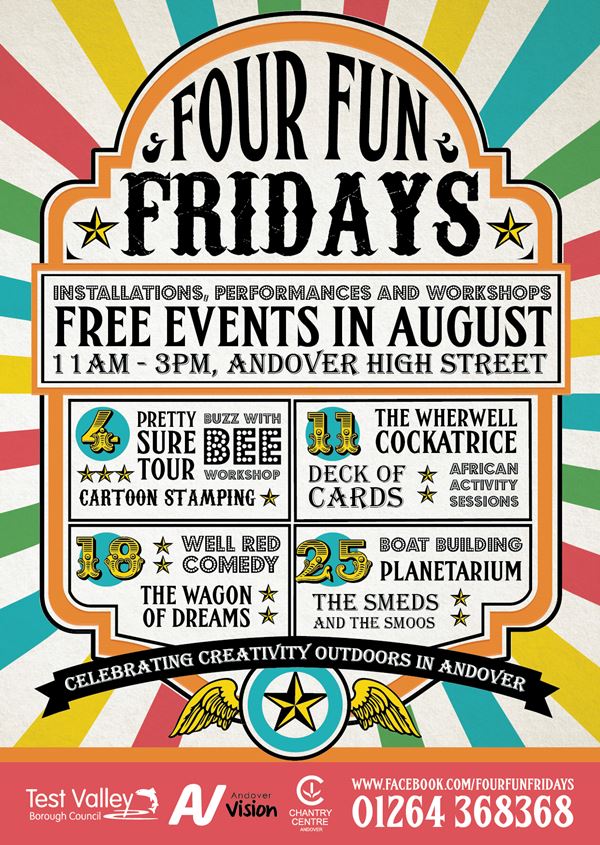 A month of family fun awaits this August!
Andover town centre is set to welcome the return of Four Fun Fridays and Picnics in the Park next month.
Organised by Test Valley Borough Council, these free events will give families the chance to head to the town and immerse themselves in a colourful world of activities and entertainment.
Popular Four Fun Fridays will be back on Andover High Street every Friday throughout August, between 11am to 3pm, with a jam-packed programme.
Each week visitors can look forward to something new from street theatre and interactive storytelling, to creative craft sessions and face painting.
The first week, 4 August, will be buzzing with surprises for nature lovers. A spell-being puppet show will explore the busy life of a bee, and there will be an opportunity to make bee hotels along with many other activities throughout the day.
During the second week on 11 August, the event will welcome a special Ceilidh workshop for the very first time, where visitors can get their toes tapping and join in an eclectic mix of folk and street dance.
On week three, 18 August, a retro caravan will be popping up outside the Guildhall to present 'Wagon of Dreams', a hilariously interactive adventure packed full of puppetry, fun and original music. The tale will follow three best friends on an exciting ocean adventure along with an outrageous mermaid and some fantastical sea creatures. All performances are relaxed with integrated Sign Supported English.
The popular pop-up planetarium will also be returning to the Chantry Centre on the final week, 25 August. Provided by Winchester Science centre, this wondrous mobile structure will transport audiences to another world. Spaces for this particular activity are limited and free tickets can be booked in advance for the 11am, 11:45am and 1:45pm shows by calling the Lights Box Office on: 01264 368368. There are two further shows at 1pm and 2:30pm which are not bookable but places are limited.
In addition to Four Fun Fridays, the council will be bringing back Picnics in the Park for the second year. Taking place on Wednesday 2, 9, 16 and 23 August between 11am to 2pm, families can pack up a picnic and head to Riverside Park to enjoy activities each week.
Every Wednesday there will be a different nature trail to take part in as well as a selection of garden games. There will also be some special craft sessions available on the 16 and 23 August, where children can have fun at creative craft workshops and take their creations home with them.
The last week will also give visitors the chance to get close to nature and explore the River Anton, by taking part in some activities provided by The Anton River Conservation Association (TARCA).
Leader of the council, Cllr Phil North said: "Four Fun Fridays is one of our most popular annual events, it really brightens up the High Street and offers some brilliant activities and entertainment each year.
"I'm really pleased that we are able to run Picnics in the Park again this August, these are lovely events that make the most of our wonderful town centre park. All of the activities are completely free to attend, so I hope families come along and really enjoy what we have to offer."
Picnics in the Park, Wednesday 2, 9, 16, 23 August 11am – 2pm, Riverside Park.
Four Fun Fridays, 4, 11, 18, 25 August 11am – 3pm, High Street.
More information can be found out www.visittestvalley.org/events