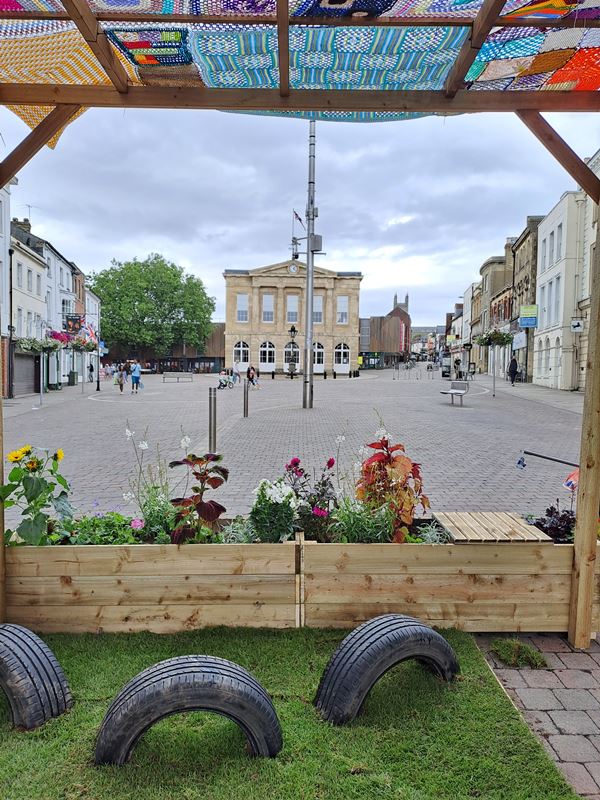 Perch, picnic and play at Andover's NEW parklet!
Next month visitors to Andover town centre can expect to see a new parklet pop-up in the High Street.
The temporary installation will be constructed and managed by Unity Art Studio, following an opportunity offered by Test Valley Borough Council for local organisations to create the informal seating space.
It will be a vibrant and inclusive area which will not only provide a spot for members of the public to sit and relax but will foster creativity and bring people together.
The new Andover parklet is inspired by the local legend of the Wherwell Cockatrice, a folk tale about a mythical creature, and Unity Art Studio has collaborated with Amanda Kane-Smith, of Merry-Go-Round Storytelling, to bring this tale to life.
Visitors can look forward to seeing elements of storytelling at the new structure, with both live performances and pre-recorded stories about local heritage and culture, accessible through QR Codes. It will also feature games and illustrations that encourage interactive play.
The parklet will be made using sustainably harvested wood and recycled materials where possible and will house some sensory plants and herbs. The design will include comfortable seating and Unity Art Studio has been working with creative volunteers over the past few weeks to create colourful crochet squares to feature on a pergola, to provide shade.
The parklet will be located just above the Time Ring and will remain in place throughout August. The space will give visitors to the town the chance to use it during upcoming events such as Four Fun Fridays and the Second Sundays market, and on non-event days to sit and relax.
The initiative is being trialled as a pilot scheme for this year and, if successful, it could be developed and expanded in future in line with the council's ambition to transform the town centre and provide events, activities and engaging spaces.
Leader of Test Valley Borough Council, Councillor Phil North said: "We were delighted when Unity Art Studios presented such an exciting proposal to deliver our vision for a pop-up parklet. The creation of the new space will be a fantastic collaborative effort and will provide something new and fresh for everyone to enjoy over the summer."
Caroline Perkins, lead coordinator for Unity Art Studio said: "We are thrilled to see the community come together to create something truly special. This project is an exciting opportunity for us to showcase the incredible talent and creativity of our local artists and makers at Unity Art Studio and the wider community, and we can't wait to share it with the world."