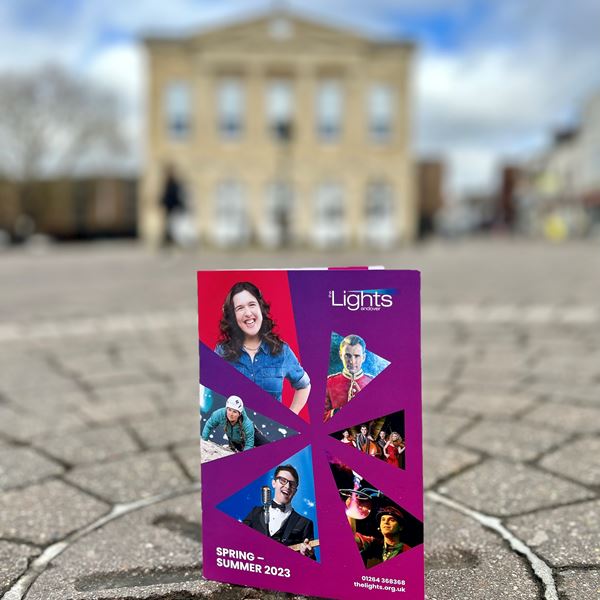 Good times, giggles, and gasps to be had at The Lights, new spring summer season brochure is here!
With a recent bout with snow and wind, there is no better time for things to warm up at The Lights in Andover.
It's an exciting time for the people of Andover and surrounding areas, with an array of talent raring to go this spring-summer season. The cultural arts venue in the heart of Hampshire has everything. Whether it's a coffee in the day with friends at The Atrium Café, or numerous giggles, good times, or gasps to be had, The Lights is the place to be this season.
This season is all about the experience. There's nothing better than grabbing a drink at the bar, chatting with friends prior to the show in anticipation… waiting for the magic to happen. Then the houselights go down, a high-quality act transports the audience away from all the worries of the world. For the duration; pure bliss. Whether it's actual magic, live music, theatre shows, a comedian, a speaker or dance show, this season brings a plethora of offerings in 2023.
With Rosie Jones, Buddy Holly and The Cricketers Tribute, The Bubble Show, Hazel Findlay, Richard Jones (BGT Winner) and Graffiti Classics on the front cover alone, this season's brochure is jam packed with absolute smash-hits from April to September.
Regular patrons will recognise some of the perennial favourites, with Neil Sands Productions "When You're Smiling" returning this April, The Pantaloons and The Bubble Show in June and The Shakin' Stevens Story in September. As well as plenty of new acts on the way, Parklife kick the season off in April, Gary and Robbie Tribute in May and The ELO Encounter in August. With indoor shows, outdoor shows, children's workshops in May and August, it is going to be busy, but in the best way.
The Lights new season brochure is out now and available at the venue on West Street in Andover. Pop in to pick up a copy. Wanting to book today? Visit www.thelights.org.uk/WhatsOn or by calling the Box Office: 01264 368368.