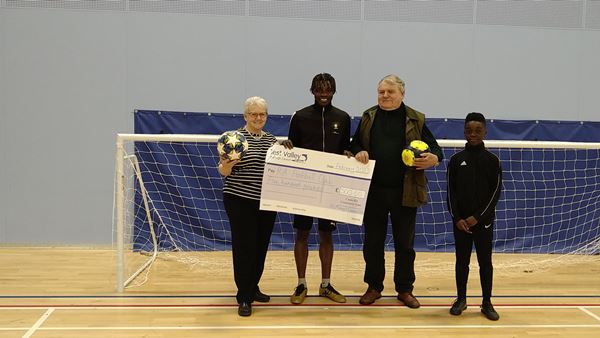 Local football club awarded £500 Councillor Community Grant
Andover's Ra Football Club has been awarded a £500 Councillor Community Grant from Test Valley Borough Council to help support the club's ongoing efforts to promote free football training sessions to children who otherwise wouldn't have the opportunity to join a club.
The grant will be used to purchase new footballs in various sizes to ensure that the club's players have access to the best possible training resources.
Andover St Mary's ward councillors Jan Budzynski, Victoria Harber and Iris Andersen supported and approved the grant.
"We are thrilled to receive this grant from the council," said Nicholas Asamoah, founder of Ra Football Club. "This funding will make a huge difference to the club and help us continue to grow and develop football in the local community.
"Football is important for children as it's good for both mental and physical health, as well as building confidence and improving social skills. Whilst many children can join local clubs, unfortunately not everyone does because of the financial commitment. We are incredibly grateful for the support of the council."
Councillor Iris Andersen echoed these sentiments, saying: "I am delighted to award this grant to Nicholas and his team. The club does fantastic work providing opportunities for local people to get involved in sport. This funding will help ensure that the club can continue to offer high-quality training and development opportunities to its players, and I am thrilled to be able to support them in this way."
The Test Valley Borough Council Councillor Community Grant scheme helps to fund community-led initiatives up to two-thirds of the overall cost. Local councillors allocate up to £1,000 to projects that they identify as meeting a need in the community based on feedback and ideas from residents.
For more information on the Councillor Community Grant programme and how to apply, please visit testvalley.gov.uk/communitygrants.