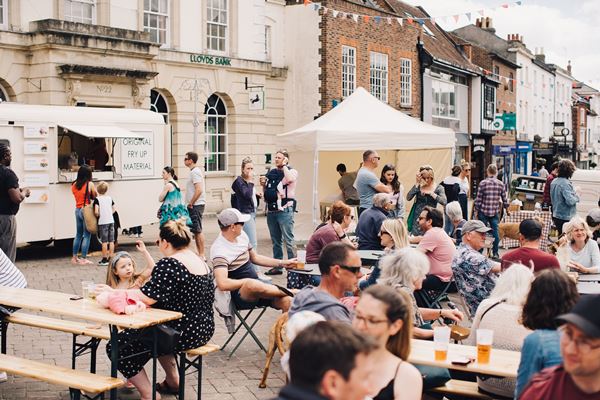 Second Sundays set to return to Andover High Street this month!
Pop the date in your diaries as Andover's popular curated market, Second Sundays, will be back open for the first time this year on Sunday 12 March.
Between 10am to 3pm visitors can look forward to a lively atmosphere as Second Sundays will fill the High Street with music, craft workshops, design-makers stalls and delicious street food.
Since its launch in June 2022, Andover's monthly event has welcomed a variety of local businesses to showcase their goods and has offered families an exciting range of free activities and workshops.
March's market will feature independent traders selling unique hand-crafted jewellery, delicious sweet treats, locally distilled gin and handmade crafted items.
To tempt taste buds there will be some hearty street food stalls available serving up Greek-inspired dishes and savoury vegan food as well as freshly ground coffee and hot drinks. Visitors will have the chance to make use of the town's pop-up seating area, Alfresco Andover, to sit and enjoy their refreshments.
Alongside the stalls there will be two free workshops for families to take part in including an activity to make mythical creature cards and the chance to try some Gelli printing. The resident DJ will also be on site, playing an eclectic soundtrack spun on vinyl throughout the day.
Second Sundays was developed by HemingwayDesign, on behalf of Test Valley Borough Council, to support emerging and established independent businesses from the region.
Leader of Test Valley Borough Council, Councillor Phil North, said: "Second Sundays has been a great success since it launched last year, with families coming along each month to shop with local businesses, eat good food and soak up the atmosphere.
"I'm really looking forward to seeing what's in store this year and to watch the event get bigger and better over the coming months."
Second Sundays will be open 10am to 3pm on Sunday 12 March, and monthly thereafter on the second Sunday of every month.
Keep up to date with Second Sundays Andover on Instagram and Facebook for the latest updates. Traders who would like to apply for a pitch at future markets can do so at www.secondsundaysandover.co.uk