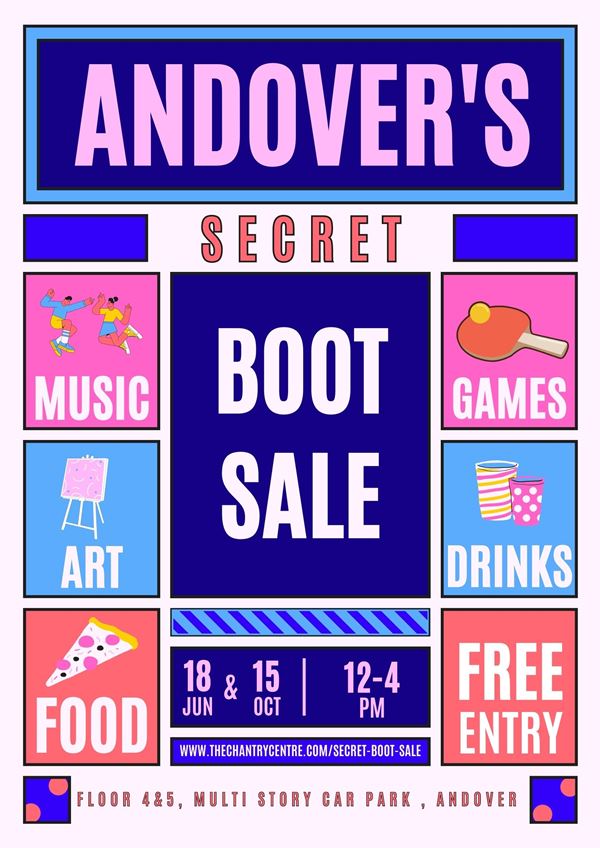 Discover the car boot sale with a difference in Andover
Test Valley Borough Council's brand new Secret Boot Sale will be open for the first time on Sunday 18 June, 12pm – 4pm.
Taking place across the fourth and fifth floors of the Chantry Centre multistorey car park, this elevated event will make use of an unusual location in the heart of the town. The car boot sale will not be visible from the ground, making it an almost secret experience, although everyone will be welcome to come along and enjoy the afternoon.
The Secret Boot Sale will invite shoppers to explore a range of pre-loved items, vintage goods and artwork, whilst enjoying family-friendly activities and entertainment.
Alongside the car boot sellers there will be free games to play including ping pong and table football.
Local arts organisation Unity Arts will be stationed at the event to run 'Stencils and Stitch', a free clothes customising and visible mending workshop. Visitors can bring clothing that they have purchased at the boot sale, or something from home, to the team who will help to upgrade and customise items and transform them into unique garments.
Andover Tap will be serving up tempting street food including crepes and hot dogs, as well as a selection of craft beer and drinks.
Adding to the atmosphere, there will be plenty of live music performed by singers and musicians. Local events company Illusion Events have teamed up with the council to hand-pick talented local artists, to perform on the day, through a series of open mic nights, which will take place in Andover in the lead-up to the Secret Boot Sale. More details about this can be found at: www.facebook.com/illusioneventspresents.
Leader of the council, Cllr Phil North said: "The Secret Boot Sale will be a little different than a standard car boot, by making use of a completely different space in the centre of town. With street food, games and live music there will be something for everyone to enjoy and I hope families come along to enjoy an afternoon of fun in a rather unique location!"
The Secret Boot Sale will take place on Sunday 18 June, 12pm to 4pm, on floors 4 and 5 of the Chantry centre multi-storey car park, Western Avenue, Andover, SP10 1BN.
Entry is free. Parking in all Andover car parks is also free on Sundays.
Seller pitches cost £5 and must be pre-booked. More details can be found at: www.thechantrycentre.com/secret-boot-sale.
The Secret Boot Sale will next open on Sunday 15 October 2023.