Corporate Plan 2023-2027
Our priorities and approach
Informed by the collaborative approach to developing this Corporate Plan: evidence-led, grounded in cutting-edge community engagement, and with the involvement of our councillors throughout the process, this has provided us with a clear focus on where we can make our greatest impact.
The Corporate Plan outlines our five strategic priorities that will provide the focus for our activities over the next four years.
As part of our ongoing commitment to work in a way that recognises the varying needs of our borough communities, we will tailor our approach to where needed, to make sure it is relevant and appropriate.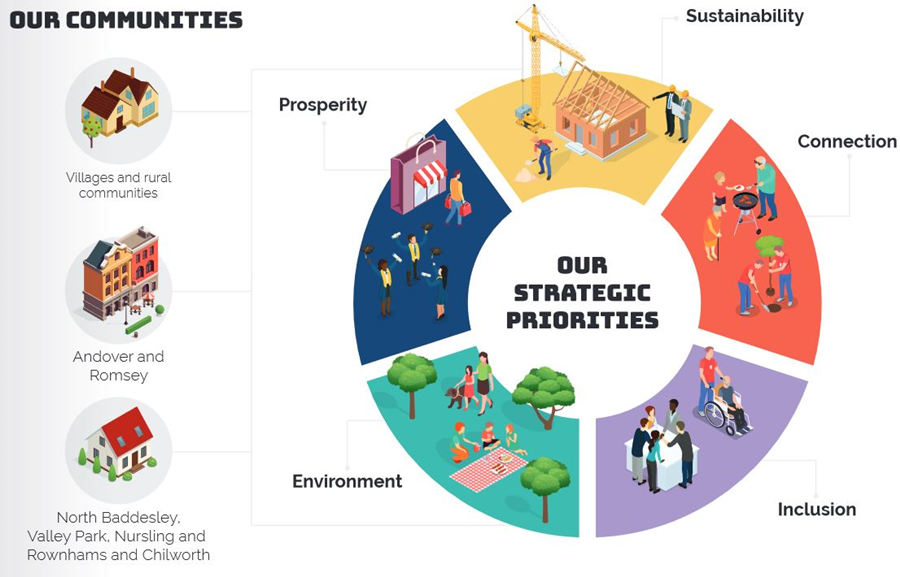 How we work
A clear vision
We work collaboratively, to deliver high quality services that support all communities in Test Valley to thrive.
Our values, that lay the foundation for how we work.
We are committed to high standards in everything we do, which shapes our behaviours and builds trust with our residents. Our five values are:
• Accountability
• Inclusion
• Empowerment
• Integrity
• Ambition
Respect for democracy and making sure everyone is included.
Our councillors, elected by local people, understand the needs and expectations of the communities they represent, which informs our actions and helps us make balanced decisions.
A community focus based on good evidence.
Our engagement with the communities we serve is central to the way we work. Using a range of techniques to recognise their strengths, aspirations and priorities provides us with the data and evidence to fully understand the issues and how best we can support them.